This Lemon Chicken Orzo Soup is made with spinach and juicy chicken in a perfectly seasoned broth with a hint of cream and Parmesan cheese. Freshly squeezed lemon juice adds the best fresh flavor to this soup.
The seasoning combination is on point, and includes oregano, basil, parsley, and dill weed. A splash of cream and some freshly grated Parmesan cheese adds an incredible finishing touch before fresh spinach and lemon juice are added right at the end.
My key tip is to cook the orzo separately and add it directly to the serving bowls. Otherwise the orzo absorbs all of that delicious broth and your leftovers look like pasta and chicken rather than soup. 🥴
Ingredients
Seasonings
1

 

teaspoon

 

dried oregano

1

 

teaspoon

 

dried basil

1

 

teaspoon

 

dried parsley

1

 

teaspoon

 

mustard powder

½

 

teaspoon

 

dried dill weed
Chicken
2

 

tablespoons

 

olive oil

1 ¼

 

lbs.

 

boneless skinless chicken breast

, 

see notes

Lemon Pepper Seasoning
Soup
½

 

cup

 

dry white wine

, 

see notes

2

 

tablespoons

 

butter

1

 

small yellow onion

, 

diced

¾

 

cup

 

carrots

, 

diced

2

 

sticks celery

4

 

cloves

 

garlic

6

 

cups

 

chicken broth

1

 

teaspoon

 

hot sauce

1

 

teaspoon

 

Worcestershire sauce

½

 

cup

 

heavy cream

2

 

cups

 

fresh spinach

½

 

cup

 

Parmesan cheese

, 

freshly grated

Juice of 1 lemon

, 

(3-4 Tbsp.)

¾

 

cup

 

orzo

, 

uncooke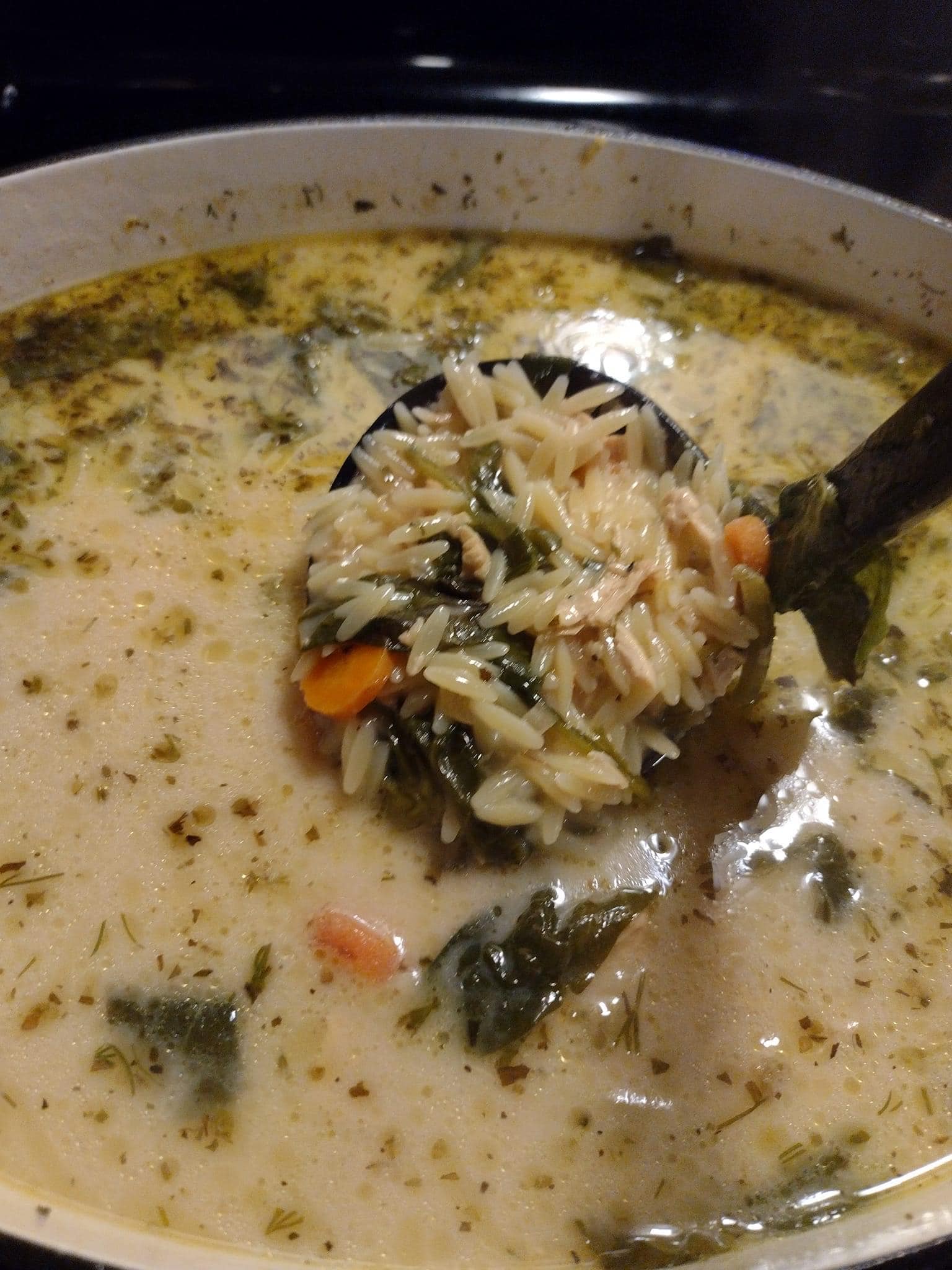 Instructions
Note: The orzo is cooked separately in this recipe to ensure that it doesn't absorb too much broth. This allows leftover soup to be refrigerated or frozen on its own. Fresh orzo can be boiled and served with leftovers. If you do anticipate leftovers, consider making less orzo and saving the rest to boil fresh later.

Heat olive oil over medium-high heat. Season the chicken with lemon pepper seasoning and add it to the heated pot. Sear on each side for 3-4 minutes, until a golden color has developed. (The middle doesn't have to be cooked through.) Remove and let rest for 10 minutes, then dice (or shred) into bite-sized pieces.

Add white wine to the skillet over medium heat and use a silicone spatula to "clean" the bottom of the pot. Bring it to a gentle bubble and let it simmer for 4 minutes, or until reduced by half. Add the butter along with the onions, carrots, and celery. Soften for 5 minutes, then add the garlic and cook for 1 more minute.

Add the seasonings, hot sauce, and Worcestershire sauce and toss to coat. Add the chicken broth. Bring to a boil, then reduce to a simmer. Add the chicken back and simmer gently until cooked through. (Do this gently to ensure that the chicken doesn't become tough.) The soup will continue to reduce and concentrate the longer it simmers.

While the soup simmers, boil the orzo in a separate pot of salted water according to package instructions. Drain once cooked.

Reduce heat of the soup to low and stir in the heavy cream. Gradually sprinkle in the Parmesan cheese, stirring continuously.

Add the spinach and let it heat through for 2-3 minutes, or until wilted. Remove from heat.

Stir in the lemon juice.

Add cooked orzo to serving bowls and ladle the soup on top. Serve!
Notes
Pro Tips:
Cook the orzo separately to ensure that it doesn't absorb all of the broth, especially if you plan on having leftovers. Add it directly to serving bowls and ladle the soup on top.
The hot sauce, Worcestershire sauce, and mustard powder are flavor enhancers that you can't taste outright, but they add umami and elevate the other ingredients in the soup.
White Wine: Dry white wine like Sauvignon Blanc, Chardonnay, or Pinot Grigio are best in this recipe and pair well with lemon. Chicken Broth may be used if you don't cook with wine.
The hot sauce doesn't make it spicy. I use Frank's Hot Sauce in this recipe.
I also use freshly grated Parmesan cheese. (Packaged grated cheese won't melt as well or taste as well.) Belgioioso is my brand of choice.
Use freshly squeezed lemon juice if at all possible as it has more flavor than bottled lemon juice.
Add the rind of a wedge of Parmesan cheese to the soup while it simmers for even more flavor!
Chicken: 3 cups of cooked chicken can be used instead of fresh chicken if needed. Add the cooked chicken in step 4.
---
Crock Pot Method
Sear the chicken, deglaze the pot, and soften the vegetables as outlined in steps 2 & 3.
Let the chicken rest before dicing/shredding. Transfer the softened vegetables to the crock pot. Add the the chicken broth, hot sauce, Worcestershire sauce, and seasonings, and chicken.
Cook on low for 6 hours. (I recommend low heat to keep the chicken juicy and tender. Cooking it over higher heat makes it tougher. If necessary, it can be cooked for 4 hours on high.)
Stir in the spinach. Cover and heat through for 5 minutes, or until wilted.
Turn heat off. Stir in the heavy cream and gradually sprinkle in the Parmesan cheese. Stir in the lemon juice.
Serve with cooked orzo.
---
Storage
Store in an airtight container and refrigerate for up to 3 days or freeze for up to 3 months. Leftovers freeze and reheat fairly well, I would boil fresh orzo to serve with leftovers.
---
Nutritional information below is per cup. This recipe makes approximately 11 cups.
Nutrition
Calories: 
221
kcal
, 
Carbohydrates: 
12
g
, 
Protein: 
16
g
, 
Fat: 
12
g
, 
Saturated Fat: 
5
g
, 
Polyunsaturated Fat: 
1
g
, 
Monounsaturated Fat: 
4
g
, 
Trans Fat: 
1
g
, 
Cholesterol: 
56
mg
, 
Sodium: 
657
mg
, 
Potassium: 
351
mg
, 
Fiber: 
1
g
, 
Sugar: 
2
g
, 
Vitamin A: 
2257
IU
, 
Vitamin C: 
4
mg
, 
Calcium: 
92
mg
, 
Iron: 
1
mg