Ingredients:
2 cans chickpeas, drained and rinsed
1 red onion, chopped
1 red bell pepper, chopped
1 yellow bell pepper, chopped
1 cup cherry tomatoes, halved
1/2 cup chopped fresh parsley
1/2 cup chopped fresh mint
1/3 cup extra-virgin olive oil
1/4 cup freshly squeezed lemon juice
2 cloves garlic, minced
1 tsp ground cumin
Salt and pepper, to taste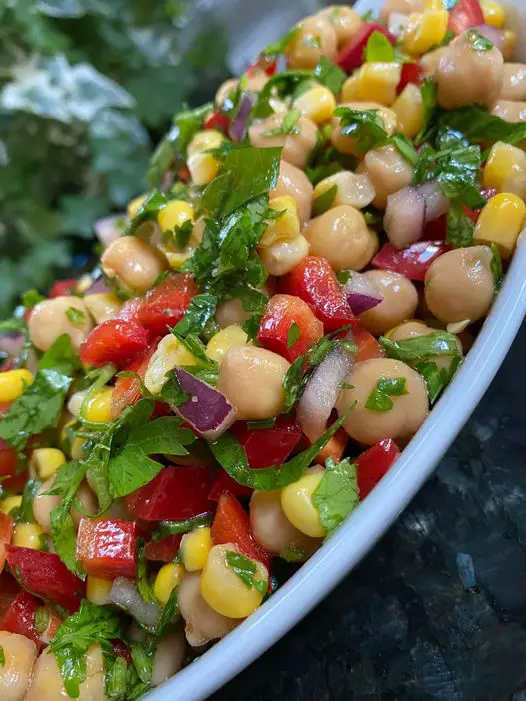 Instructions:
In a large mixing bowl, combine the chickpeas, chopped red onion, chopped red and yellow bell peppers, halved cherry tomatoes, chopped fresh parsley, and chopped fresh mint.
In a small mixing bowl, whisk together the extra-virgin olive oil, freshly squeezed lemon juice, minced garlic, ground cumin, salt, and pepper until well combined.
Pour the dressing over the chickpea salad and toss well to coat.
Cover the bowl with plastic wrap and refrigerate for at least 30 minutes before serving.
Serve chilled as a side dish or as a main dish by adding grilled chicken, shrimp, or tofu.
Enjoy your delicious chickpea salad!