Vegetable beef soup is one of those recipes that reminds me of my Midwest roots and takes me back to childhood, when I stood beside my great grandmother in the kitchen, watching her make something out of nothing.
Whenever it started to cool down in Kansas City, Great-Grandma Vera Mae would pull out her heavy-duty pot and make a hearty vegetable beef soup. It was one of those soups that ate like a whole meal. It had tons of vegetables simmered down in an herby tomato broth with thick chunks of ground beef.
Ingredients
1 1/2 pounds beef chuck roast, cut into 1-inch cubes

3 teaspoons 

kosher salt, divided

2 teaspoons 

freshly ground black pepper, divided
1/4 teaspoon all-purpose flour

1 tablespoon 

vegetable oil

1 pound 

Russet potatoes, cut into 1/2-inch cubes

3 

medium carrots, peeled and thickly sliced

1 

medium yellow onion, diced

2 

celery stalks, thickly sliced

4 

garlic cloves, minced

1 

(14-ounce) can diced tomatoes, with their liquid

2 tablespoons 

Worcestershire sauce

1 tablespoon 

Creole (or all-purpose) seasoning

2 teaspoons 

Italian seasoning

1 

dried bay leaf

5 cups 

unsalted or low-sodium beef broth
3/4 cup frozen green beans
1/2 cup frozen green peas
1/2 cup frozen corn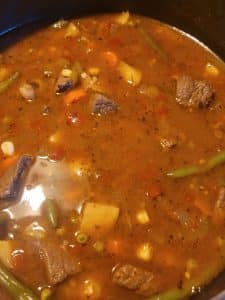 Directions
Season the meat with 1 teaspoon of the salt, 1 teaspoon of the pepper, and the flour.
In a large stockpot or Dutch oven over medium heat, add the oil and just enough meat to form a single layer. If needed, brown the meat in batches so that you don't overcrowd the pot. Cook, flipping as needed, for 3 to 4 minutes, until browned on all sides. Use a slotted spoon to remove meat from the pot and transfer to a plate. Repeat this process until all the meat is browned.
Add the potatoes, carrots, onion, and celery, and cook, still over medium, until the onions are translucent, 5 to 6 minutes. Add the garlic and cook for 1 minute.
Add all the beef back to the pot, along with the canned tomatoes, Worcestershire sauce, Creole seasoning, Italian seasoning, bay leaf, and beef broth. Use a wooden spoon to scrape up any dark bits stuck to the bottom of the pot. Cover and simmer for about 75 minutes, until the beef is tender.
Stir in the green beans, peas, and corn and cook for an additional 10 minutes.
Remove the bay leaf, then taste the soup. Season with additional salt and pepper if needed. Serve warm.