Ingredients
For the soup:
Good drizzle olive oil for sautéing vegetables
6 oz or 170g onions
7 oz or 200g carrots
10 oz or 280g potatoes
1 tablespoon salt (I used 1 tablespoon vegetable stock powder and 1 teaspoon of fine sea salt.)
7 oz or 200g fresh green beans
14 oz or 400g can cannellini beans
1 oz or 30g spaghetti or vermicelli.  (I used tagliatelle.  Because that's what I had.)
1 slice stale white bread
A few good grinds of fresh black pepper
Pinch of saffron
For the pistou:
4 cloves garlic
4 tablespoons tomato paste
1/4 cup chopped fresh basil or 1 1/2 tablespoons dried basil (I actually used 1 tablespoon dried oregano.  Can't seem to find fresh basil this time of year in Egypt and because I love the fresh stuff, I've never bought dried basil.)
1 oz or 30g Parmesan cheese plus more for serving, if desired
1/4 cup or 60ml fruity olive oil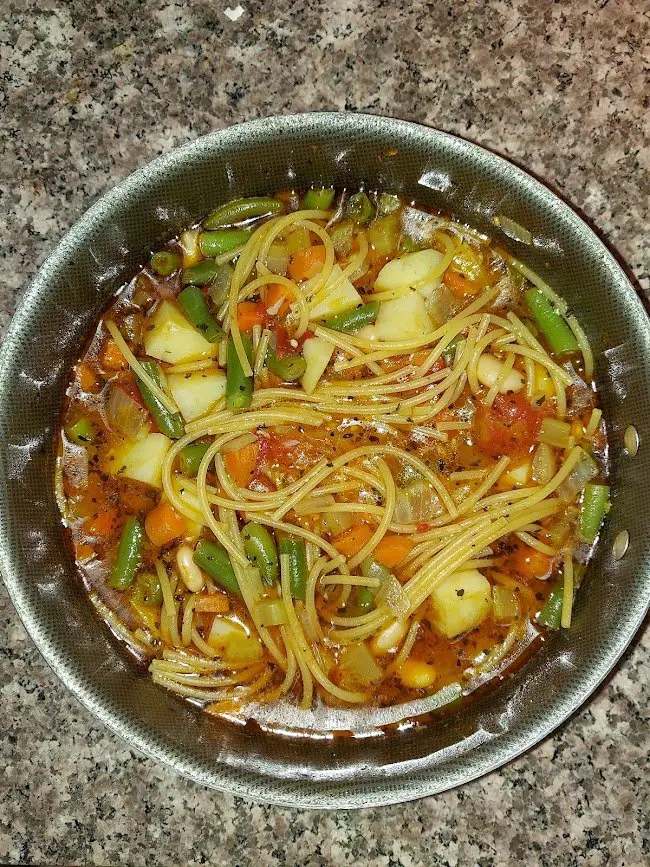 Method
Peel your onions and dice them finely.  Drizzle a little olive oil in pot big enough to hold at least 5-quarts or 4.75 liters.  Put your onions in to sweat over a low heat while you peel and chop your carrots and potatoes.