Judging by the recipes I've posted, you'd think I spend all my time making vegan egg & dairy alternatives. I do make other things, but I figure that these recipes are more of a novelty & people might appreciate it if I share my experiments. I might post some more "normal" recipes in future, but for now, I give you the Vegan Poached "Egg". In the photos, I've served mine on a toasted crumpet with wilted baby spinach, some little crispy pan-fried bits of homemade smoky maple seitan , & ground black pepper.
Transitioning over from vegetarianism to veganism, one of the things I've missed most is eggs for breakfast – breakfast is my favourite meal of the day! But I used to have occasional phases where I was totally off eggs & found them icky, so vegan eggs are much better in lots of ways. Rather more time & effort is needed than simply cracking an egg, but it's worth it, & the good thing about this recipe is it makes four "eggs" & you can reheat any leftovers in the microwave.
I often make this hollandaise sauce recipe by Bryanna Clark Grogan, which is really delicious & gives simple pan-fried tofu a kind of "runny yolk" element when making Tofu Florentine. That was my starting point for developing a tofu poached egg. Feel free to add black salt to this recipe if you want to add some extra eggy flavour, but I haven't included it because I'm not 100% sold on the idea. I associate that sulfurous smell with eggs that aren't super fresh (yuck), so I'm happy with my poached eggs not being that eggy! All a matter of personal taste…
Another couple of notes on my recipe… Since taking these photos, I've reduced the amount of margarine in the "yolk". Although it tasted good, as it warmed up while poaching, the sauce split a little. I could have added some extra cornflour to emulsify it a bit more, but didn't want the consistency any thicker, so reduced the fat content instead (which isn't a bad thing!).
The brand of tofu you choose will affect the texture & flavour. It must be Silken Firm Tofu. If it's not silken, it will be too grainy, & if it's not Firm Silken, it will be too soft to hold together. If you're in Australia, I recommend TLY Joyce Silken Firm Tofu. It's very mild with only a slight tofu-y taste, so works perfectly here (& is great for making desserts too). It's readily available in most supermarkets & is only around $2.00 a packet.
The first time I experimented with poaching a tofu egg, I just used arrowroot flour in the white mixture. It was okay, & held together well, but I found the texture a tad too soft & pasty, so next time, I added a little agar agar powder to get the texture closer to a soft poached egg. I know that powdered agar isn't readily available everywhere -& you can not use agar flakes instead because they probably won't dissolve & gel properly just from gentle poaching -so if you can't find agar powder, just omit it.
Lastly, I use silicone egg poaching pods & my trusty old cast iron frying pan with a glass lid. Four of them fit in easily. I recommend these pods because they're so easy to use, but I guess it depends on what you have at hand.
I think that covers everything. Recipe below!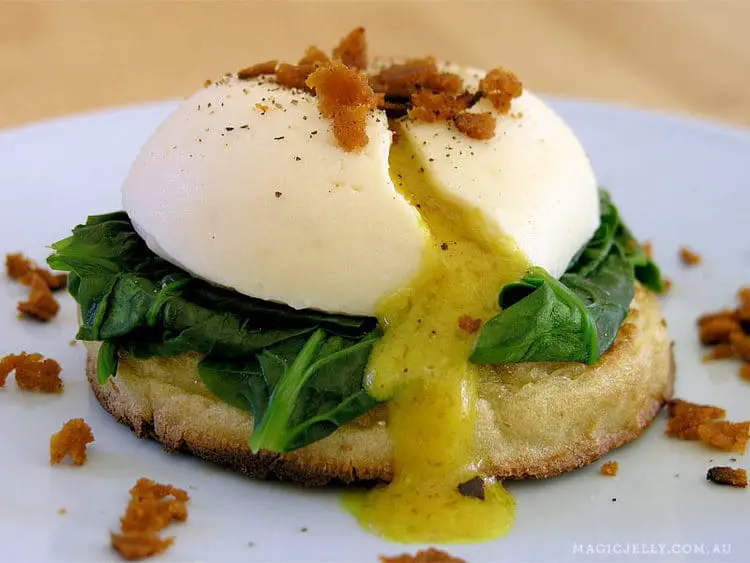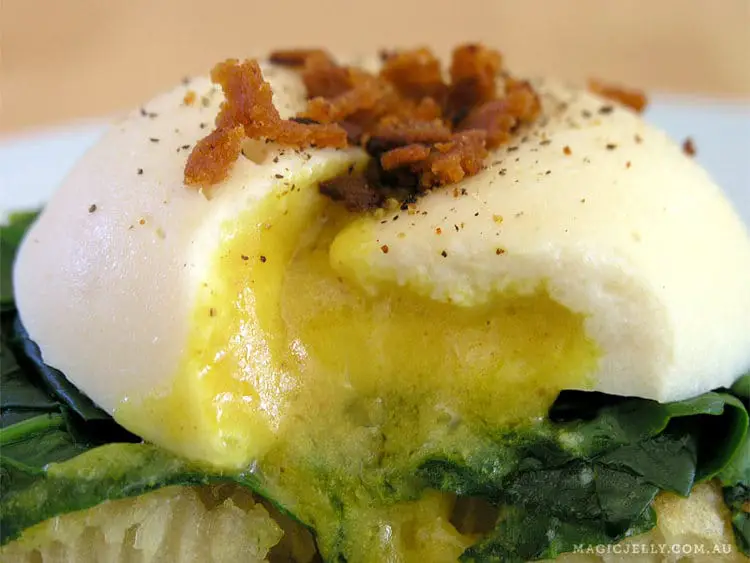 Vegan Poached "Eggs"Makes 4
The Yolk:
1/2 cup water
1/2 teaspoon stock powder (I use Massel Chicken-Style Stock Powder)
1 teaspoon cornflour (cornstarch)
1/4 teaspoon ground turmeric
2 teaspoons nutritional yeast (I use Lotus Savoury Yeast Flakes)
1 teaspoon prepared mild english mustard
1 tablespoon vegan margarine or butter
The White:
300g (10.5 oz) packet silken firm tofu, drained
2 tablespoons arrowroot flour (starch)
1 teaspoon agar agar powder
1/4 teaspoon salt
Making the Yolk…
Blend together all the yolk ingredients (except the margarine) until smooth & heat gently in a saucepan, whisking in the margarine as the mixture thickens & starts to simmer. [Edit: You can also blend the yolk ingredients together until the mixture is free of lumps & zap it in the microwave at 15-20 second intervals, whisking each time, until it has thickened & started to bubble.] Remove from the heat & pour into a bowl, placing some clingfilm on the surface so a skin won't form. Put it in the fridge or freezer to cool down – it must be totally cooled before you can assemble your eggs.
Making the White…
Blend together all ingredients with a stick blender or in a food processor until smooth & creamy.
Assembling the Eggs…
You might like to spray or brush your egg poacher with a little oil, although it's not really necessary if using silicone poaching pods. Spoon a generous tablespoonful of the tofu mixture (egg white) into each pod & make a well in the centre with the back of a teaspoon, spreading the mixture a little up the sides of the pod. Make sure the tofu mixture isn't too thin on the bottom though – you don't want the yolk breaking through.
Spoon between 1-2 teaspoons of the yolk mixture (about the equivalent of a regular egg yolk) into the well you've made, making sure it doesn't seep to the edges of the pod – you want to make sure the yolk is totally encased within the tofu. Gently spoon a little more of the tofu mixture over the top of the yolk, smoothing the top of the egg.
Poaching the Eggs…
In a pan, bring some water to a gentle simmer while you're assembling the eggs. Gently lower your filled poaching pods into the pan (the water level should be about 2.5cm/1" once the pods are in) & place a lid over it to help the eggs cook evenly. Adjust the heat if necessary & simmer gently for about 10 minutes (this gives you plenty of time to toast your toast, make a cup of tea, etc). The texture should be firm, but still tender & springy (not rubbery!), much like a regular poached egg. If a little water has formed on the top due to the steam, pour it off carefully, then flip your egg onto your plate. When you break the white open, lovely yellow yolky sauce will ooze out all over your toast – yum!