Forever in blissful soup mode over here, and this comforting, flavorful soup brings all the goodness. Perfectly cozy and bursting with Italian spices, this ah-mazing Tuscan Kale Potato Bean Soup is packed with powerhouse ingredients all bathed in a luscious broth. It's not only easy to make, but the whole family will think you were working in the kitchen all day to create this bowl of deliciousness.
1

 medium yellow onion, small dice

1

 carrot, small dice

2

 celery ribs, small dice

1 Tablespoon

 minced garlic

1 ½ cups

 vegetable broth *(See notes for ratio)

3 ½ cup

 water (or broth)

1 Tablespoon

 lemon juice

4

 sundried tomato halves, finely chopped *

1

–

3

 teaspoons miso 

3 cups

 red potatoes, skins on, small dice

1

 – [ 15.5 oz. can ] cannelloni beans, drained and rinsed

1 Tablespoon

 Vegan Parmesan Cheese or nutritional yeast (optional)

3 cups

 Tuscan kale, vein removed, strips-cut into thirds (or baby spinach)
Spice/Herb Ingredients:
1 teaspoon

 garlic powder

1 teaspoon

 onion powder

2 Tablespoons

 dried minced onion flakes

2 teaspoons

 dried basil

1 teaspoon

 dried oregano

1 teaspoon

 dried crushed thyme leaves *

1/8 teaspoon

 dried marjoram

1/8 teaspoon

 ground rosemary

1/8 teaspoon

 cumin (optional)

1

 bay leaf

1 teaspoon

 sea salt (+/-) *

¼ teaspoon

 black pepper (+/-)

¼ teaspoon

 red pepper flake (+/-)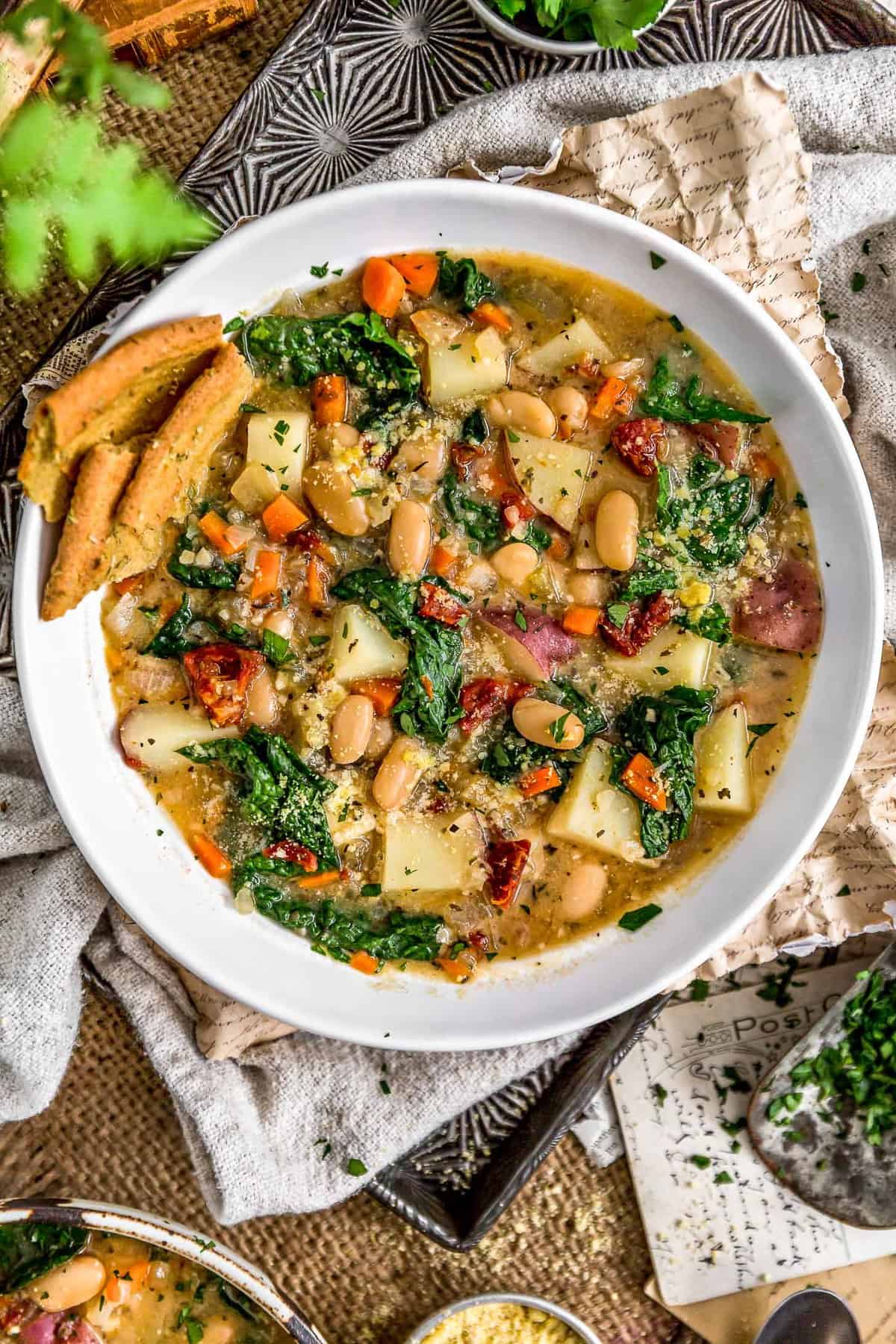 Optional Toppings:
Vegan Parmesan Cheese
Chopped parsley
Red pepper flake
---
INSTRUCTIONS
Place the Spice/Herb Ingredients (except the red pepper flake) in a small bowl, mix well, set aside.
In the large ceramic/enamel lined Dutch oven/pot (or similarly large stockpot) add the diced onion, carrots, and celery, sauté over medium-high heat for 5 to 7 minutes (add a little splash of water or broth if sticking.)
Then add the minced garlic and sauté for 30 seconds to 1 minute.
Add the vegetable broth, water, lemon juice, finely chopped sundried tomatoes, Spice/Herb Mix, and Vegan Parmesan Cheese (or nutritional yeast), then increase the heat to a boil, stir well, then immediately lower to a low simmering boil. Then add the diced red potatoes. Cover and simmer until the potatoes are almost tender (approx. 15 to 20 minutes). Then add the miso and cannelloni beans, stir to incorporate, simmer for 5 minutes.
Taste test for flavor, and add additional seasoning to achieve the desired flavor. Add the dried red pepper flakes and chopped Tuscan kale. Simmer until the potatoes and kale reaches the desired tenderness. Discard the bay leaf.
Ladle soup into a bowl and top Vegan Parmesan Cheese, fresh chopped parsley, and red pepper flakes.