This scrumptious Tortellini Soup Recipe is loaded with Italian Sausage, tomatoes, fresh cheese tortellini, arugula, and a perfect blend of herbs and spices.  Fall is here, and with it comes all kinds of incredibly delicious soups.  I love to serve this family favorite with a garden salad tossed with a light vinaigrette and French baguettes with soft creamy butter.
This hearty Cheese Tortellini Soup combines Italian sausage with cheese tortellini in an easy broth with tomatoes, onions, garlic, arugula, and Italian herbs and seasonings.
1

 lb. ground Italian Sausage

1

 medium onion finely chopped

3

 cloves garlic minced

1 teaspoon

 dried basil

1 teaspoon

 dried oregano

1 teaspoon

 dried parsley

½ teaspoon

 dried thyme

2

 pinches red pepper flakes

2 cups

 beef broth

1 1/2 tablespoons

 tomato paste

1

 (14.5 ounce) can fire roasted tomatoes

4 cups

 vegetable broth or low sodium chicken broth

10 ounces

 refrigerated tortellini

3 cups

 arugula  (or spinach)
Grated Parmesan Cheese
Fresh thyme (optional)
Fresh basil (optional)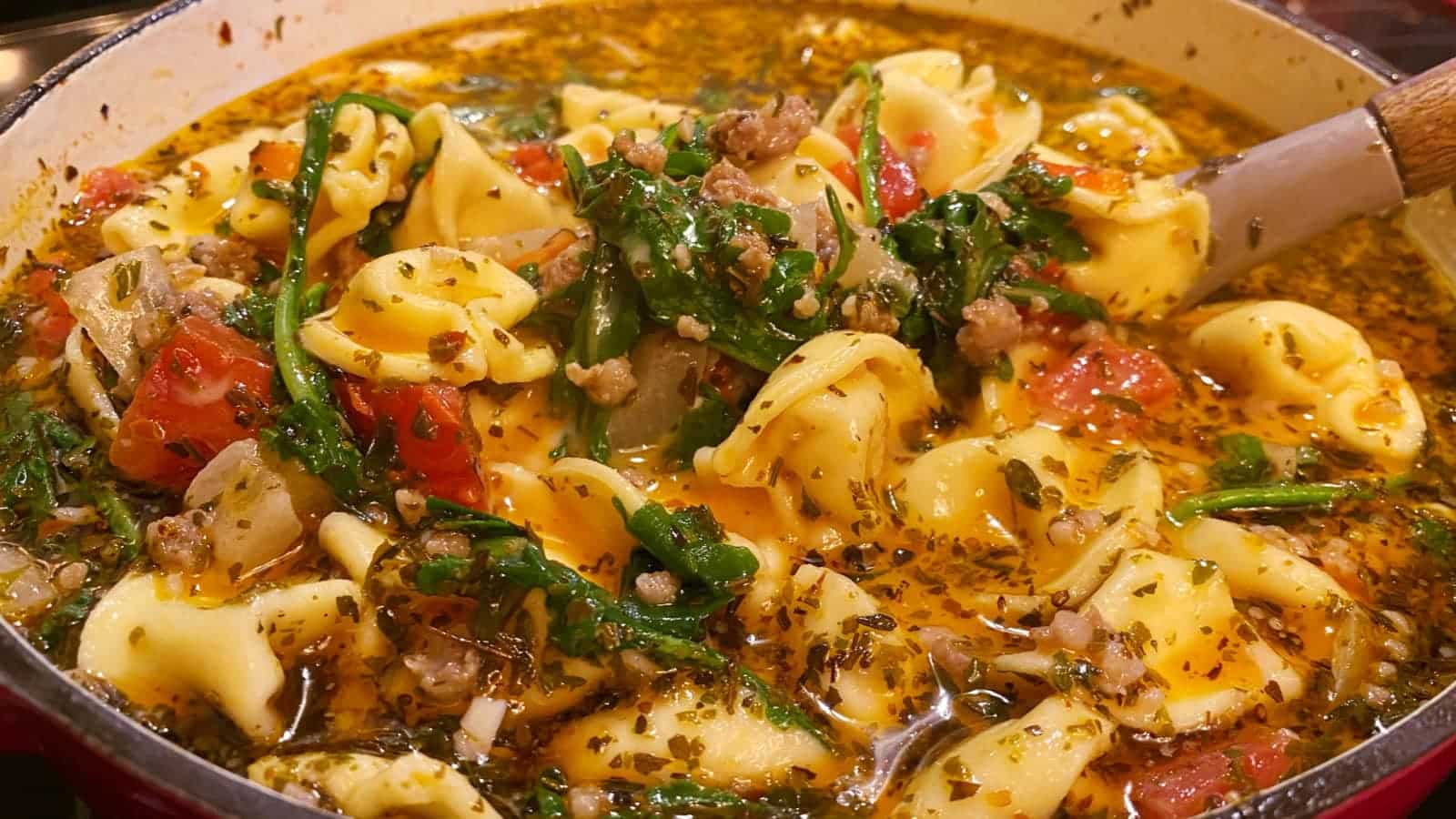 INSTRUCTIONS
Brown the Italian Sausage in a Dutch Oven or stockpot over medium heat.  When it is almost entirely browned, add the onion and cook until the sausage is done browning and the onion has softened.  Turn the heat to low and add the garlic, basil, oregano, parsley, thyme, and red pepper flakes; cook for 1 minute, stirring constantly.
In a small bowl, whisk the tomato paste with about 1/2 cup of beef broth. Add the vegetable broth, remaining beef broth, fire-roasted tomatoes, and thinned-out tomato paste. Increase the heat to medium and bring it to a low boil.  Reduce the heat to a simmer.
Add the cheese tortellini and simmer for 10-15 minutes or until the tortellini are cooked to your desired tenderness.  Remove the pan from the heat and stir in the arugula.  Add salt and pepper to taste.  Sprinkle each bowl with 1-2 tablespoons of freshly grated Parmesan cheese. If desired, garnish with fresh thyme or fresh basil.
NOTES
You can substitute fresh baby spinach for arugula without changing the recipe. Remember to remove the large stems.
Most grocery stores carry refrigerated pasta, although you may have to ask where it is in the store.  You can always substitute frozen cheese tortellini or even dried tortellini.
Try to purchase a good Italian sausage from a local Italian meat market.  If it is only available in links, simply cut the casings off.
Omit the meat and use only vegetable broth for a vegetarian tortellini soup.
This soup is really so quick and easy with a short cooking time that is doable on a weeknight.
Feel free to substitute different veggies like mushrooms, kale, fresh baby spinach, carrots, or celery.
Dried herbs work best in soup, where their flavors have time to permeate the whole pot.  I like to add them right before the liquids and stir for about 1 minute. A tablespoon of Italian seasoning can be substituted for the dried herbs.
Buy the freshest dried herbs you can get.  If they don't have much smell to them anymore, then they have lost their potency, and they will not lend much to the recipe.  It is time to replace them.
The red pepper flakes add a very minuscule amount of heat, but if the idea of adding it leaves you apprehensive, then omit it.
To make this a creamy tortellini soup recipe add 3/4 cup heavy cream to the soup as the last step in the recipe over very low heat or no heat.
Store leftovers in an airtight container in the fridge for up to 3 days. Be careful not to overcook the pasta when reheating, so it does not absorb all the liquid. Reheat on low on the stovetop or in the microwave at reduced power.