Recipe
3

 cloves Chopped garlic

2

 tablespoons fresh ginger

2

 tablespoons red curry paste

2

 tablespoons coconut oil

4

 cups vegetable or chicken broth

3

 cups coconut milk

6

 3/ 4 

ounces of rice sticks (really thin rice noodles)
Fresh cilantro, thai basil, red chilis, and green onions, to garnish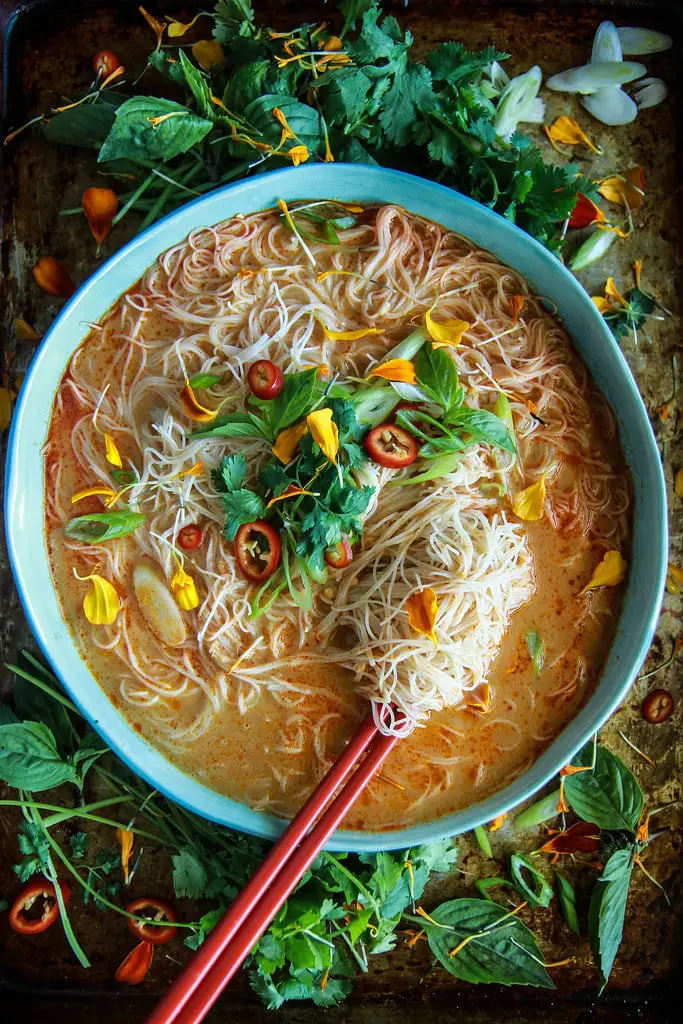 METHOD
STEP 1

Combine the garlic, ginger and curry paste in a small cuisinart (or mince and mash together in a small bowl). Add the coconut oil and combine everything well.

STEP 2

In a large pot, heat the curry-coconut paste over medium heat, frying the paste gently for 1-2 minutes.

STEP 3

Add the chicken broth and deglaze the pot. Add the coconut milk and bring the broth to a boil. Season to taste with kosher salt

STEP 4

Either place the noodles in the boiling broth, or pour the boiling broth into a bowl of dry noodles and let the soup sit while the noodles cook and soak up the hot broth.

STEP 5

Garnish with fresh cilantro, thai basil, red chilis and green onions.