Recipe
Servings: 6
Prep Time: 10-15 mins
Cook Time: 40 mins
6 slices bacon (the smokier the better)
2 cups mirepoix (mixture of celery, carrots, and onions, all minced)
3 cloves garlic, minced
1 large jalapeño, seeded and chopped (make it 2 if you prefer more heat)
1 tablespoon fresh thyme leaves chopped
One 12 oz bottle of lager or Pilsner (non alcoholic if preferred-or sub with more broth)
¼ cup all purpose flour (1-2 tablespoons more as needed – see notes)
3 cups broth, chicken or vegetable *
1 cup heavy cream
4 small to medium russet potatoes, peeled and cubed
½ lb of sharp old white cheddar cheese, grated coarsely
4 oz smoked cheddar cheese grated coarsley
Salt and pepper to taste
For Serving (optional)
Sliced jalapeños
Chopped fresh parsley
Soft homemade pretzels or crusty bread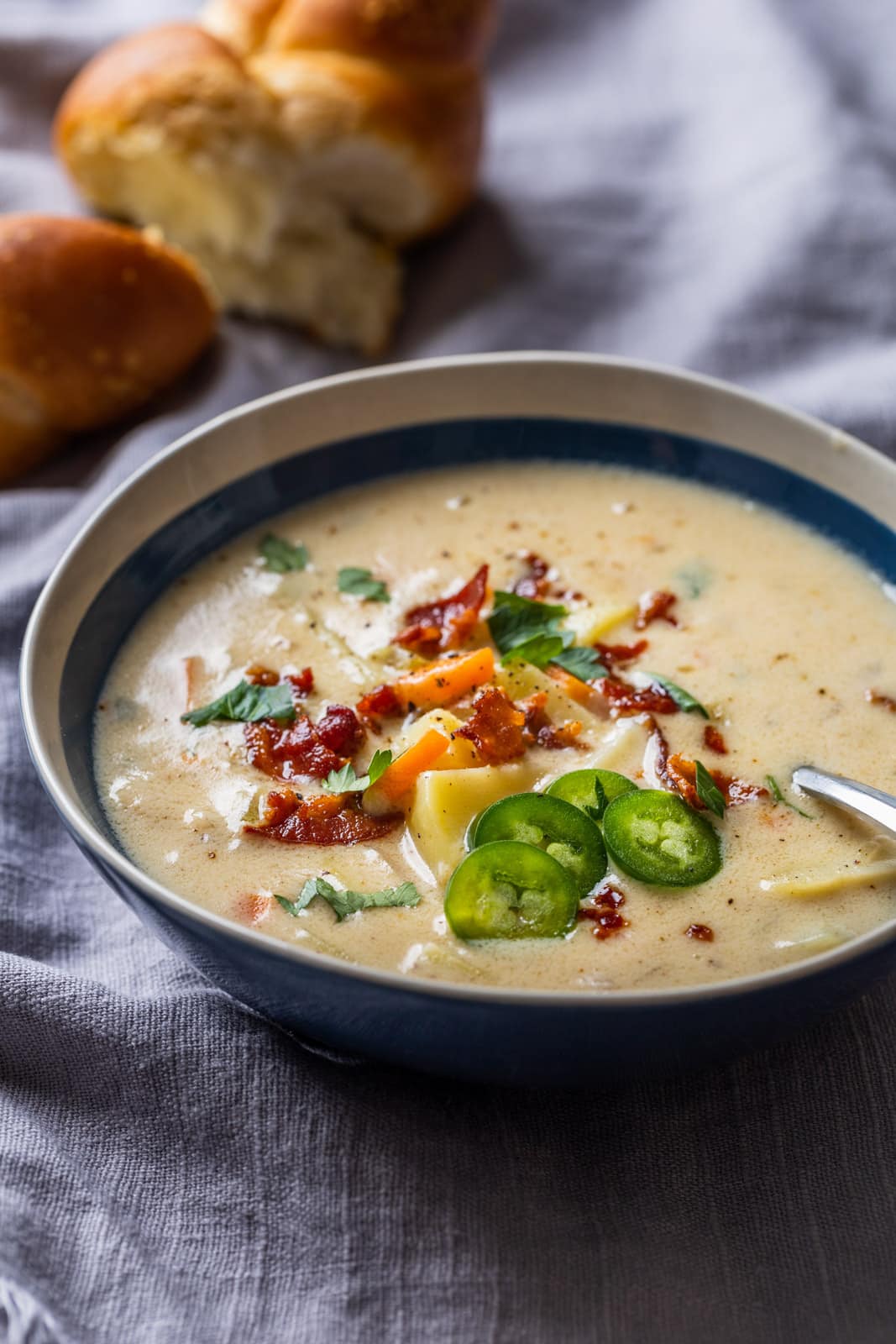 Directions
In a large soup pot, cook the bacon over med/high heat until the fat is rendered and the bacon is crisp, 7 minutes. Using a slotted spoon, transfer the bacon to a bowl.
Add the carrots, celery, onion, jalapeño, garlic and thyme to the saucepan and cook over medium heat, stirring, until softened, 5-8 minutes. Add ½ of the beer and cook until reduced by half, another couple of minutes.
Sprinkle the flour over the veggies and stir for a few minutes to cook off any floury taste.(see recipe note about thinking) Add the chicken broth just a little bit at a time, stirring as you add until smooth and creamy. The soup should start out very thick and eventually thin out as you add the full 3 cups of broth.
Then stir in the remaining beer and the potatoes, and simmer for approx 20 minutes or until the potatoes are fork tender.
Add the heavy cream, cheddar cheeses and simmer, stirring occasionally, until thickened and creamy, about 5 minutes. Stir in the reserved bacon and season with salt and pepper. Add a few tablespoons of broth if the soup is too thick. Serve while it's warm with Soft homemade pretzels or crusty bread
Recipe Notes
This soup is more brothy than super thick. It does thicken as it cools so keep that in mind, but if you prefer your soup very thick then I would reduce the amount of broth you add in the recipe by ½-¾ cup. And use ¾ the amount of beer. Also you can blend it before adding the bacon for a smooth texture. If you find your bacon renders a lot of fat feel free to either remove some of it or add 1-2 tablespoons more flour to make the roux thicker too. You could also increase the amount of cheese as many go have to 6 oz instead of 4 oz of smoked cheddar for an even cheesier soup!
Feel free to use any beer you like. The stronger the beer the more pronounced the flavour will be. That also goes for the kind of cheese you use too – Get strong beer and great cheddar; you can't go wrong.
Make sure to check seasoning before adding too match salt – remembering that the cheese adds quite a bit of saltiness to the soup so season accordingly.