Ingredients:
2 pounds beef chuck roast, cut into 2-inch pieces
8 ounces button mushrooms, sliced
2 carrots, peeled and chopped
2 stalks celery, chopped
1 medium onion, chopped
3 cloves garlic, minced
2 cups beef broth
1 cup red wine (such as Pinot Noir or Burgundy)
2 tablespoons tomato paste
2 tablespoons all-purpose flour
2 tablespoons olive oil
2 teaspoons dried thyme
1 bay leaf
Salt and pepper, to taste
Chopped fresh parsley, for garnish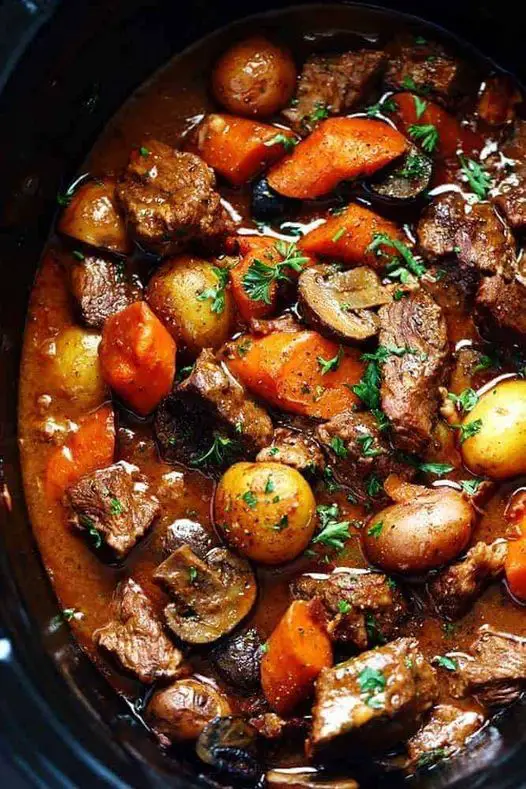 In a large bowl, season the beef with salt and pepper.
Heat the olive oil in a large skillet over medium-high heat.
Add the beef to the skillet and cook until browned on all sides, about 5 minutes.
Remove the beef from the skillet and place it into the slow cooker.
Add the sliced mushrooms, chopped carrots, chopped celery, chopped onion, and minced garlic to the slow cooker.
In a small bowl, whisk together the beef broth, red wine, tomato paste, all-purpose flour, dried thyme, and bay leaf until well combined.
Pour the mixture over the beef and vegetables in the slow cooker.
Cover and cook on low for 8 hours or on high for 4 hours, until the beef is tender and the vegetables are cooked through.
Season the beef bourguignon with salt and pepper, to taste.
Serve hot, garnished with chopped fresh parsley.
Enjoy your delicious Slow Cooker Beef Bourguignon with mushrooms!