Recipe
2

 sliced bell peppers

8

 cherry tomatoes

1

 can crushed tomatoes

1

 small chopped leek

1

 chopped red onion

5

 cups chicken stock

1

 sprig thyme

1

 sprig chopped parsley

1/ 8 

teaspoon paprika

3

 bay leaves

1

 cup milk
Salt and pepper to taste
ROAST BELL PEPPERS AND CHERRY TOMATOES
METHOD
STEP 1

Preheat oven to 400 degree F. Place peppers and tomatoes on foil-lined baking sheet. Rub with olive oil and salt.

STEP 2

Roast for 25-35 minutes. Set aside.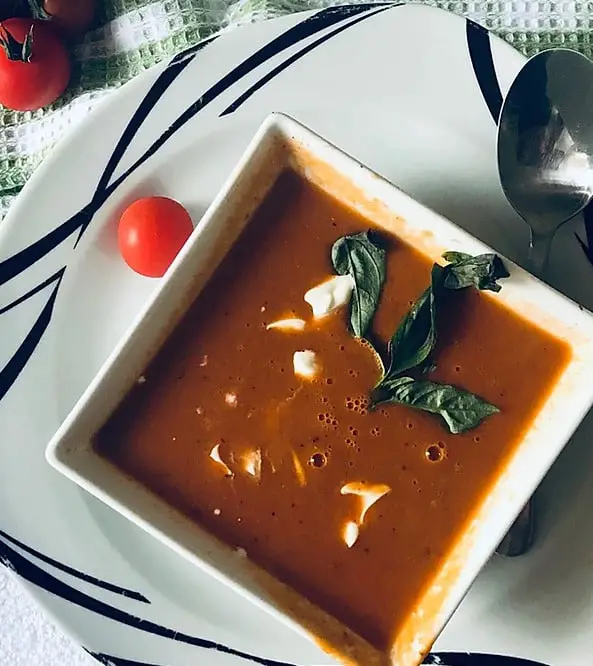 PREPARE SOUP
METHOD
STEP 1

Heat 2 tablespoons olive oil in large soup pot over medium-low heat. Add onions and sweat until translucent and soft.

STEP 2

Pour in 1-2 cups chicken stock. Add diced tomatoes, garlic,thyme, bay leaves, roaster peppers and tomatoes. Add just enough stock to cover the surface of the contents of the soup (you can always add more stock later to thin down, if necessary!)

STEP 3

Season with salt and pepper.

STEP 4

Bring soup to a low simmer and cook for 20-25 minutes.

STEP 5

Using an immersion blender or stand blender and add butter, cream and milk, blend soup until smooth—you may need to do this in two batches depending on your size blender. Place soup back in pot and reheat to serve. Season and add a final splash of lemon.

STEP 6

Garnish with fresh basil leaves.