With kale and carrots and roast cauliflower and potatoes with red pepper flakes, curry, grame marsala, tandoori spices and cumin, of course onions garlic and cilantro stems and bay leaves. Beef broth. But you can keep it veg. I also threw in about 2 tablespoons of Pepe. Pasta. Num. Wooohooo I also did condiment of tzatziki (cucumber dill yogurt)with chunks of fresh tomatoes and chunks of avocado. Spicey. Needed a bit of cooling.
Sure, here's a recipe for red lentil curry soup:
Ingredients:
1 cup red lentils
1 medium onion, diced
2 cloves garlic, minced
1 tablespoon olive oil
1 tablespoon curry powder
1 teaspoon ground cumin
1/2 teaspoon ground coriander
1/4 teaspoon ground turmeric
4 cups vegetable broth
1 can (14.5 ounces) diced tomatoes
1 cup frozen peas
Salt and pepper, to taste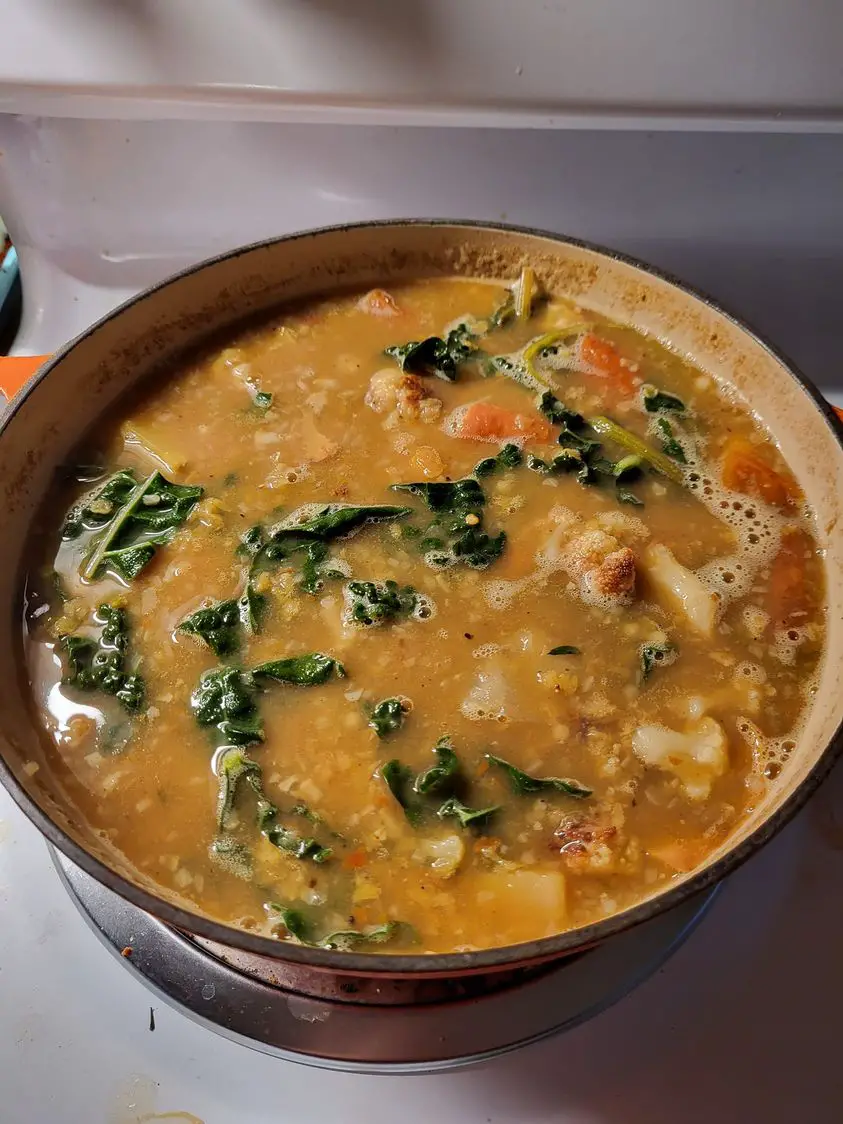 Instructions:
Rinse the lentils in a fine-mesh sieve and set aside.
In a large pot, heat the olive oil over medium heat. Add the onion and garlic and cook until the onion is translucent, about 5 minutes.
Add the curry powder, cumin, coriander, and turmeric and cook for an additional minute.
Add the lentils, vegetable broth, and tomatoes to the pot and bring to a boil. Reduce the heat to low and simmer, covered, for 20-25 minutes or until the lentils are tender.
Stir in the peas and simmer for an additional 5 minutes.
Season with salt and pepper to taste.
Serve hot.
Optional toppings: diced tomatoes, chopped fresh cilantro, a dollop of plain yogurt, or a sprinkle of paprika. Enjoy!