Ingredients:
1 lb dried red beans
6 cups water
1 large onion, chopped
3 cloves garlic, minced
1 green bell pepper, chopped
2 celery stalks, chopped
1 tbsp vegetable oil
1 tbsp dried thyme
1 tsp dried oregano
1 tsp cayenne pepper (optional)
Salt and pepper to taste
4 cups chicken or vegetable broth
1 ham hock (optional)
1 bay leaf
3 cups cooked white rice
1 tbsp chopped green onions (optional)
Hot sauce, to taste (optional)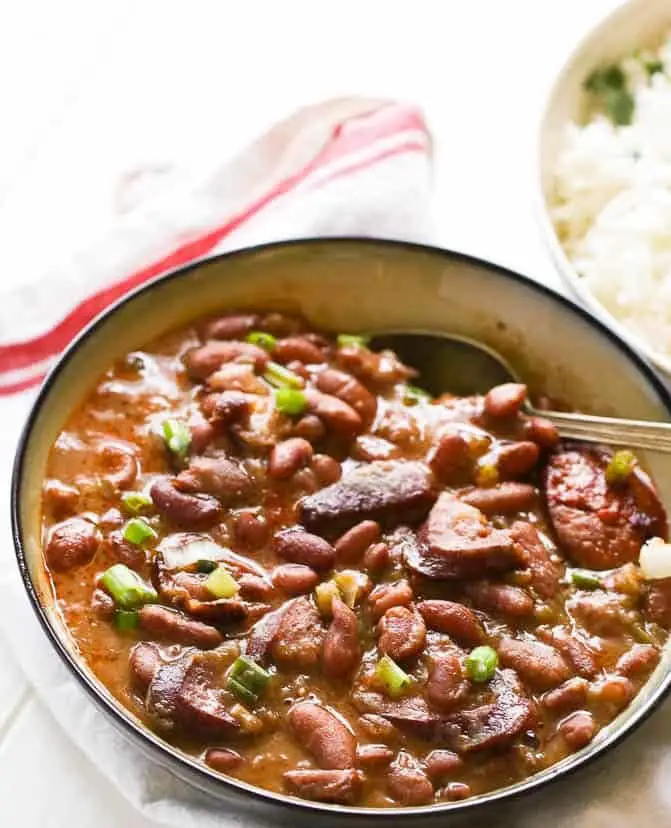 Instructions:
Rinse and drain the red beans, then place in a large pot with 6 cups of water. Bring to a boil, then reduce heat and simmer for 2 hours, or until tender.
In a separate pan, sauté the onion, garlic, green pepper, and celery in oil over medium heat until softened, about 5 minutes.
Stir in the dried thyme, oregano, cayenne pepper (if using), and season with salt and pepper.
Add the sautéed vegetables to the pot with the red beans, along with the broth, ham hock (if using), and bay leaf. Simmer for an additional 30 minutes.
Remove the ham hock and shred the meat, then return the meat to the pot. Discard the bone and bay leaf.
Serve the red beans over cooked white rice, topped with chopped green onions (if using) and hot sauce (if desired). Enjoy your red beans and rice!