Here is a recipe for purple sweet potato soup:
Ingredients:
2 pounds purple sweet potatoes, peeled and cut into 1-inch cubes
1 tablespoon olive oil
1 medium onion, diced
2 cloves garlic, minced
4 cups chicken broth
1/2 cup heavy cream
Salt and black pepper, to taste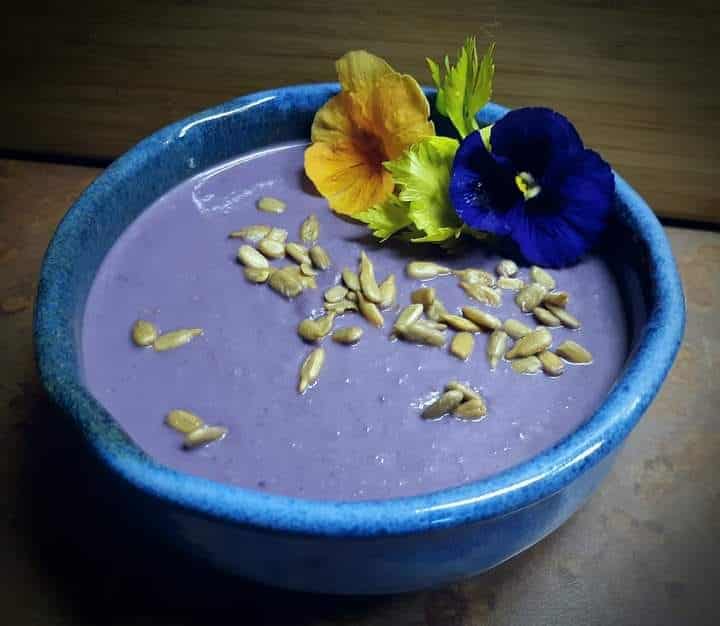 Instructions:
Preheat the oven to 400°F (200°C).
Place the sweet potato cubes on a baking sheet and drizzle with the olive oil. Toss to coat the sweet potatoes evenly.
Roast the sweet potatoes in the preheated oven for 25-30 minutes, or until they are tender and caramelized.
In a large pot or Dutch oven, heat the remaining olive oil over medium heat. Add the onions and garlic and cook until the onions are translucent, about 5-7 minutes.
Add the roasted sweet potatoes and chicken broth to the pot. Bring the mixture to a boil, then reduce the heat to low and simmer for 10-15 minutes.
Use an immersion blender to blend the soup until it is smooth and creamy. Alternatively, you can transfer the soup to a blender or food processor and blend it in batches.
Stir in the heavy cream and season the soup with salt and black pepper to taste.
Serve the soup hot, garnished with additional black pepper or chopped fresh herbs, if desired. Enjoy!