This potato soup with vegetables is a creamy and comforting
preparation. Write down its steps because it is an easy, cheap, and
tasty recipe.
The potato soup with vegetables is a creamy dish, very nutritious,
that when eating it gives satiety and satisfaction for its intense
flavor. This soup provides vitamins and minerals from different
vegetables; one of the advantages of eating a hearty bowl of soup is
the amount of water provided to the body. In addition, it contains
fiber and antioxidants, relevant elements for good health. On cold
days, potato soup with vegetables is perfect for finding the warmth
the body needs. Not to mention the advantages of the practicality of
its preparation.
The potato, the base of this soup, is a tuber with valuable properties
and health benefits. It is rich in carbohydrates, so it provides
substantial energy to the body. It is high in potassium, vitamin C, B
vitamins, folic acid, iron, and magnesium. All these properties help
the nervous system to function correctly, in addition to preventing
some degenerative diseases. The potato is also an excellent ally
when suffering from diseases of the digestive system, such as
gastritis.
Ingredients:
5 large potatoes
2 medium carrots
1 chopped spring onion
5 stalks of celery
1.8 L of water
4 tablespoons of extra virgin olive oil
5 tablespoons of wheat flour
1 cup of liquid whole milk
1 pinch of salt
1 pinch of pepper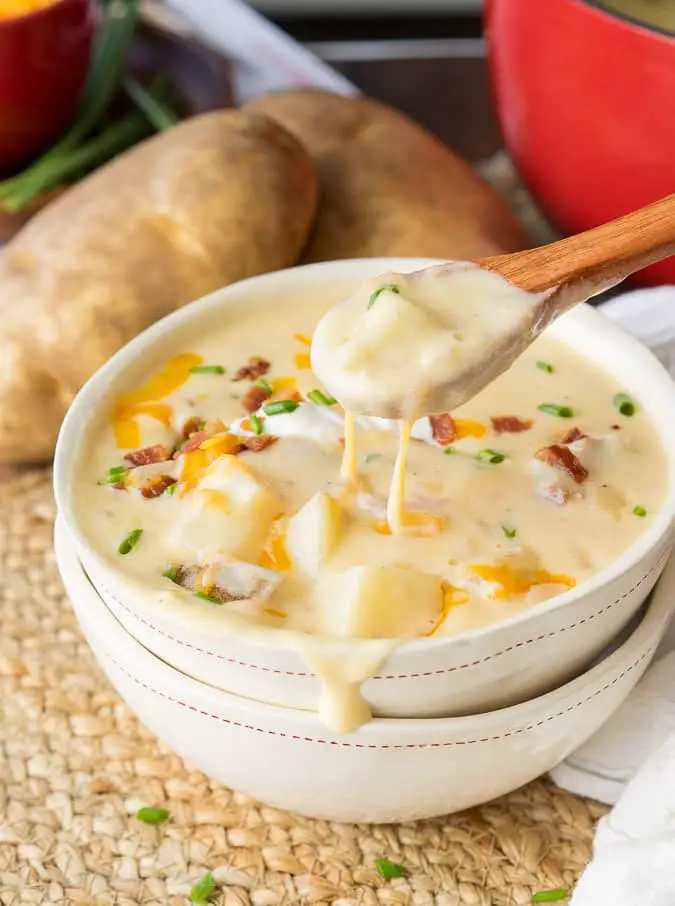 How to prepare potato soup with vegetables:
1. Wash, peel, and cut the potatoes into chunks in cubes of about
1×1 cm.
2. Wash, peel and cut the carrot into pieces of approximately 1×1
cm.
3. Wash and cut the celery into small pieces.
4. In a saucepan, pour the water, add the potato, the carrot, the
celery, and a pinch of salt. Cook over high heat for 20 minutes,
until the vegetables are soft.
5. Remove and reserve the vegetables. Also, reserve the broth.
6. Peel and cut the spring onion into small pieces.
7. In a large saucepan, pour the olive oil and sauté the onion for
about three minutes.
8. Then, with the help of a paddle, add the flour little by little and stir
gently until everything is integrated.
9. Pour the milk, a pinch of pepper, and mix. Let it boil, constantly
stirring until it thickens.
10. Add salt to taste.
11. Add the reserved vegetables and cook for another minute. Add
one cup of the reserved water where the vegetables were
cooked.