Ingredients:
500g (17.64 oz) all-purpose flour
300g (10.58 oz) warm water
10g (0.35 oz) salt
2g (0.07 oz) instant yeast
Cornmeal, for dusting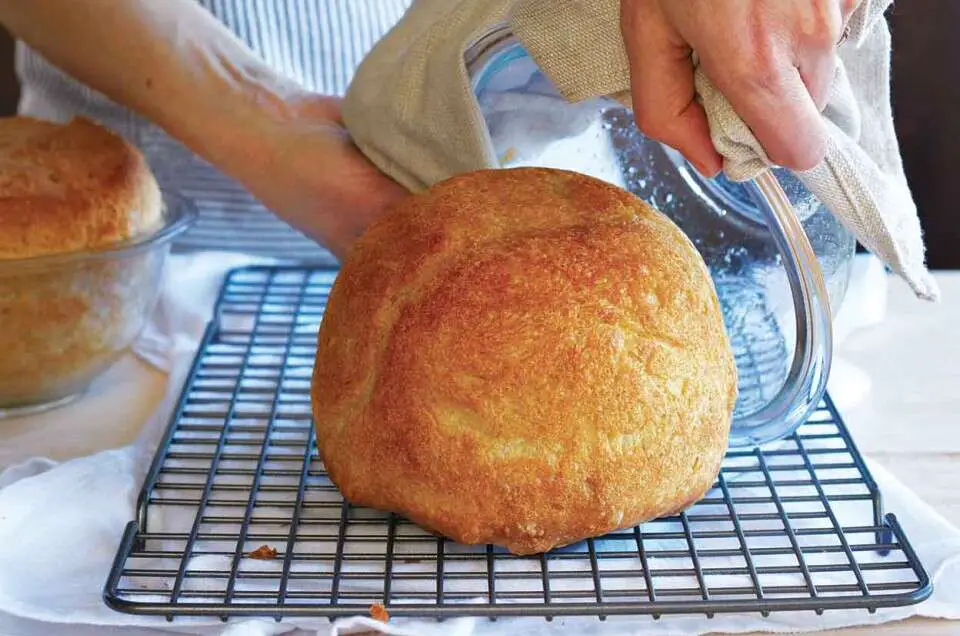 Instructions:
In a large bowl, mix together the flour, warm water, salt, and instant yeast until a shaggy dough forms.
Turn the dough out onto a floured surface and knead for 10 minutes, or until the dough is smooth and elastic.
Place the dough back in the bowl, cover it with plastic wrap, and let it ferment at room temperature for 2 hours, or until doubled in size.
Preheat the oven to 450°F (230°C) and place a cast iron Dutch oven (or similar heavy pot with a lid) in the oven to heat.
Turn the fermented dough out onto a floured surface and shape it into a round loaf. Dust a sheet of parchment paper with cornmeal and place the loaf on the paper.
When the oven is hot, carefully remove the Dutch oven from the oven and remove the lid. Pick up the loaf by the parchment paper and drop it into the pot. Cover the pot with the lid and place it back in the oven.
Bake the bread for 30 minutes with the lid on, then remove the lid and bake for another 10-15 minutes, or until the surface is golden brown and the bread sounds hollow when tapped.
Remove the bread from the oven and let it cool on a wire rack for 10 minutes before slicing and serving.