Ingredients:
1/2 cup each chopped celery, onion and green pepper
1 garlic clove, minced
3 tablespoons butter
1 can (14-1/2 ounces) chicken broth
1 cup uncooked diced peeled potatoes
1 cup shredded carrots
1-1/2 teaspoons salt
1/2 teaspoon pepper
1/4 to 3/4 teaspoon dill weed
1 can (14-3/4 ounces) cream-style corn
2 cups half-and-half cream
1-3/4 to 2 cups fully cooked salmon chunks or 1 can (14-3/4 ounces) salmon, drained, flaked, bones and skin removed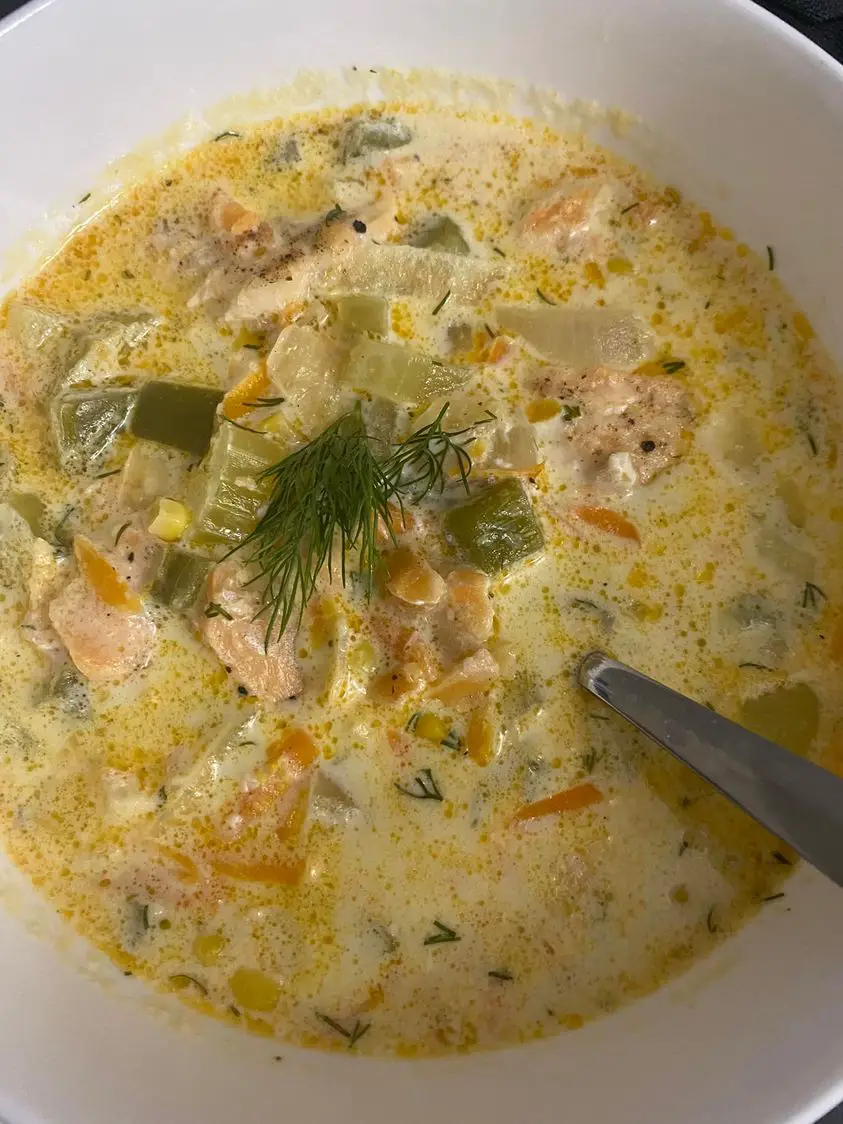 Direntions:
In a large saucepan, saute celery, onion, green pepper and garlic in butter until the vegetables are tender. Add broth, potatoes, carrots, salt, pepper and dill; bring to a boil. Reduce heat; cover and simmer for 40 minutes or until the vegetables are nearly tender. Stir in the corn, cream and salmon. Simmer for 15 minutes or until heated through.
Gray: I had looked in our cookbooks for a salmon chowder recipe, but I couldn't find one that was what I was thinking of, so I had to turn to the internet for this one. It has great flavors that remind me of the beauty of the Oregon coast.  I don't think I could rave about this enough.  I will be making this again without a doubt.  We had it reheated in the microwave as leftovers several times and it was just as good as the first night I made it.  It was so good as leftovers that we were looking forward to having it. 🙂  I've been working on building a collection of great recipes to use with leftover salmon, and this just moved to the top of the stack.  The best part of this is that we are buying whole salmon fillets when we can get a good deal on them, and cooking them and then we have fresh roasted salmon left over to put into salads, soups, salmon patties, etc.  We both grew up eating canned salmon, and this is so much better.  It isn't the same stuff at all and it has completely changed the way we think about and eat salmon.  I hope you give this a try and enjoy it as much as we have.
Katie: Last time we made a salmon filet, we made salmon patties with the leftovers, which were absolutely delicious. So when Gray said he wanted to make salmon chowder with some leftover salmon we had, I was dubious. Why didn't we just make the salmon patties again? But he really wanted to make it, so I said I would try it. I don't know why I was so reluctant to try this, because when I tasted it, it was even better than the salmon patties! I am so glad that we are eating salmon other than from a can and trying it different ways. We haven't actually made any salmon that I didn't like, and I can't imagine buying it in the can again. This recipe was wonderful and I hope that you try it!