2 tablespoons

 olive oil

1

 medium onion chopped

2

 large carrots peeled and chopped

3

 stalks celery chopped

1 1/2 cups

 green beans trimmed and cut in one inch segments

1 1/2 teaspoon

 dried parsley

1 teaspoon

 dried oregano

1/2 teaspoon

 dried basil

1/2 teaspoon

 garlic powder

1/2 teaspoon

 onion powder

6 cups

 low sodium beef broth

1

 can (8 ounce) tomato sauce

1

 can (14.5 ounce) fire roasted tomatoes

1 1/4

 lbs fresh or frozen meatballs

3/4 cup

 Mini Farfalle pasta (ditalini, acini de pepe or orzo)
fresh parsley, chopped
salt and pepper to taste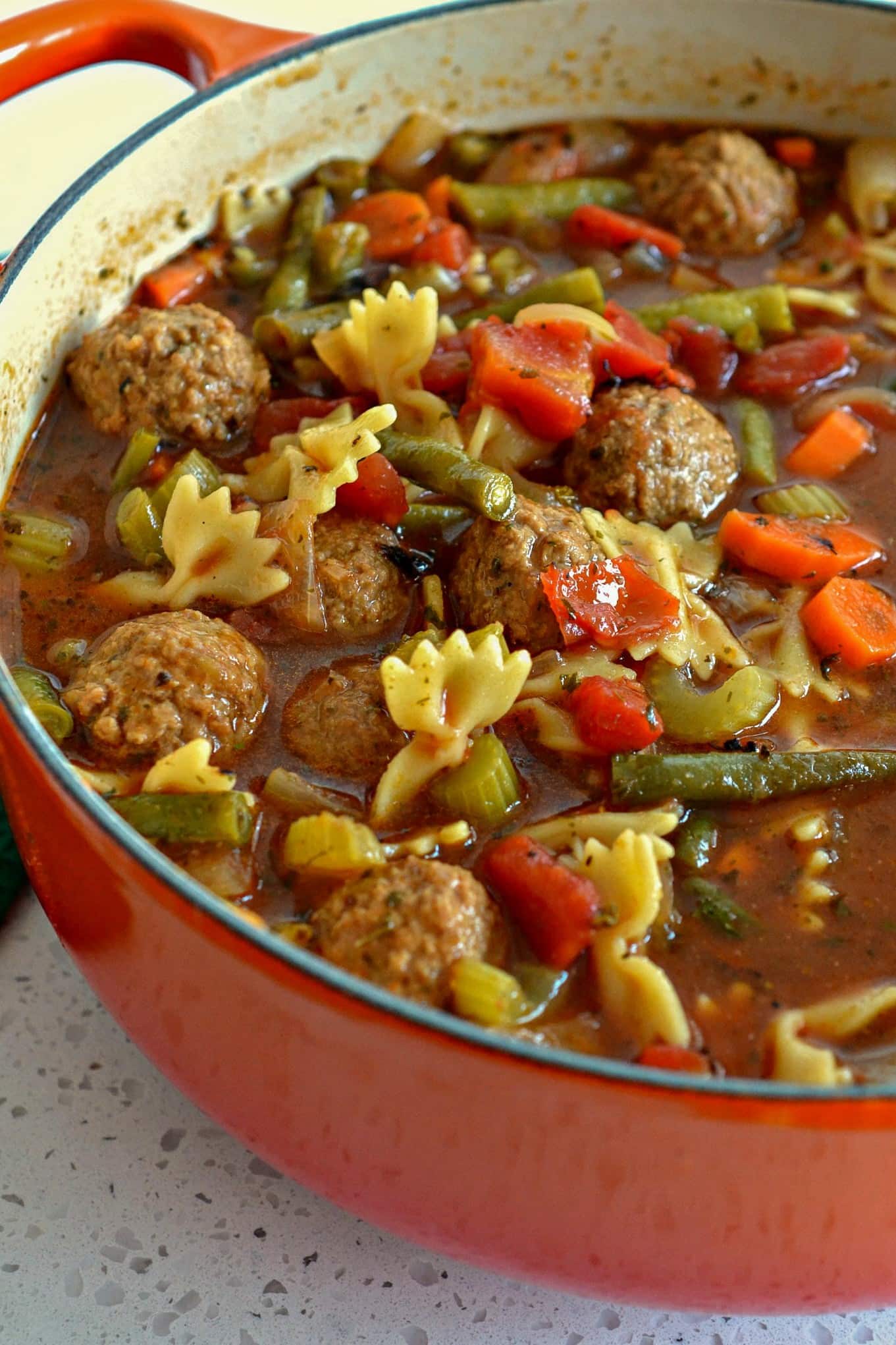 INSTRUCTIONS
In a large heavy stockpot, heat olive oil over medium heat.  Add the chopped onion, carrots, celery, and green beans.  Cook for 7-8 minutes or until slightly soft and fragrant. Add parsley, oregano, basil, garlic powder, and onion powder.  Cook for 2 minutes, stirring constantly.
Pour in beef broth, tomato sauce, fire-roasted tomatoes, and meatballs; simmer for 7-10 minutes.  Add the pasta and cook for an additional 10 minutes.  Garnish with chopped fresh parsley, season with salt and pepper to taste, and serve promptly.
NOTES
You can use fresh or frozen turkey, beef, pork, or chicken meatballs.  They all taste good in the soup.
I prefer fresh vegetables but frozen can be used in a pinch.
Substitute chicken broth if you using ground turkey.
Canned fire-roasted tomatoes are tomatoes that are charred over an open flame before they are diced and canned.  They can be found at your local grocery store with other canned tomatoes.
If you are going to freeze or store any of this soup for later consumption, remove the portion you will save for a later date before adding the pasta.  Hold back a proportionate amount of pasta and add it when you reheat the soup.
Any small pasta will work like Mini Farfalle, ditalini, acini de pepe or orzo.
For added flavor, add 1-2 tablespoons of freshly grated Parmesan Cheese to each soup bowl.
Store leftovers in an airtight container in the fridge for up to 3 days.