Ingredients:
1/2 sweet onion, finely chopped
2 cloves of garlic, finely chopped
2 tablespoons salted butter
2 tablespoons flour
2 cups light cream
1 cup milk
1 cup heavy cream
1/2 teaspoon salt
1/4 teaspoon pepper
1/4 teaspoon Old Bay seasoning
1/4 teaspoon thyme
1 lb crab meat
Additional Old Bay seasoning (optional)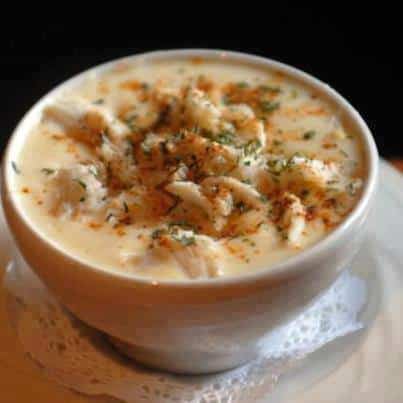 Instructions:
In a pot, melt butter over medium heat. Add onion and garlic and sauté for 2-3 minutes.
Add flour and stir. Slowly add cream and milk, stirring constantly.
Add salt, pepper, Old Bay seasoning and thyme and stir.
Reduce heat and simmer for 15-20 minutes, stirring occasionally.
Taste and adjust seasoning as needed. Allow soup to cool.
Once cooled, gently fold in crab meat.
Heat through and serve warm. Optional to add additional Old Bay seasoning to taste.