Ingredients:
1 pound ground beef
1 tablespoon olive oil
1 medium onion, chopped
3 cloves garlic, minced
2 tablespoons tomato paste
1 can diced tomatoes, undrained
1 can tomato sauce
2 cups beef broth
1 can black soybeans, drained and rinsed
1 can diced green chilies
2 tablespoons taco seasoning
1 teaspoon ground cumin
Salt and pepper, to taste
Optional toppings: shredded cheese, sour cream, chopped fresh cilantro, diced avocado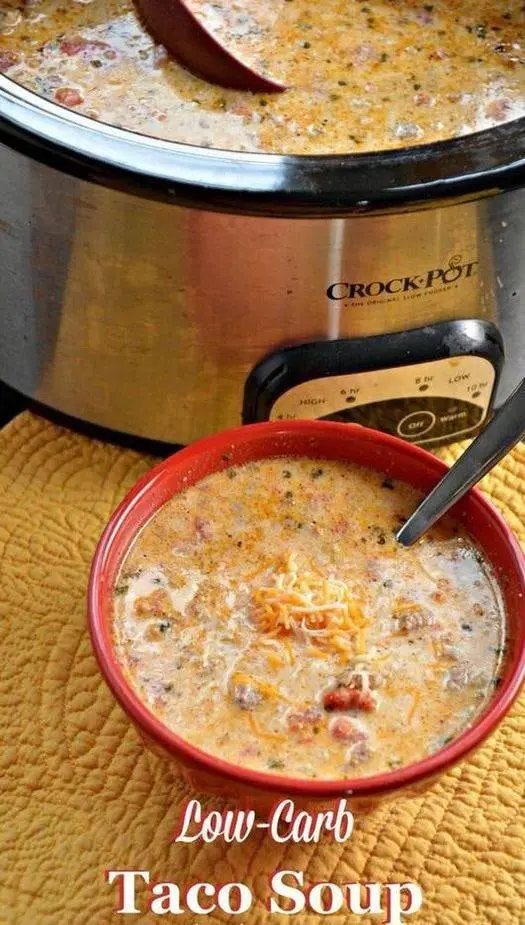 Instructions:
In a large pot or Dutch oven, heat the olive oil over medium-high heat.
Add the ground beef and cook until browned, breaking it up into small pieces as it cooks.
Add the chopped onion and garlic to the pot and cook until the onion is softened, about 5 minutes.
Stir in the tomato paste, diced tomatoes, tomato sauce, beef broth, black soybeans, diced green chilies, taco seasoning, and ground cumin.
Bring the soup to a boil, then reduce the heat to medium-low and simmer for 20-30 minutes, until the flavors are well blended.
Season the soup with salt and pepper, to taste.
Serve the soup hot, topped with shredded cheese, sour cream, chopped fresh cilantro, and diced avocado, if desired.
Enjoy your delicious Low-Carb Taco Soup!