Low Carb Pineapple Down-Upside Cakes!
Low Carb Pineapple Upside Down Cake? Yes! This tender yellow cake has a sweet pineapple topping and only 3 net carbs per piece! It's easy to make a healthy sugar-free keto pineapple upside down cake from scratch at home.
Prep Time
10 mins
Cook Time
30 mins
Total Time
40 mins
Course: Dessert Cuisine: American Servings: 12 Calories: 153 Author: Taryn
Ingredients
4 tbsp butter
1 cup fresh pineapple
1/4 cup Joy Filled Eats Sweetener (or see alternatives in recipe notes)
1 tsp pineapple extract
Cake Batter:
2 eggs
1/3 cup yogurt
4 tbsp butter
1 cup almond flour
1/4 cup coconut flour
1/4 cup Joy Filled Eats Sweetener (or see alternatives in recipe notes)
2 tsp baking powder
1 tsp pineapple extract
Instructions
Preheat oven to 350.
Spread the softened butter in the bottom of an 8 x 8 baking dish. Put a layer of pineapple on top of the butter. Mix together the ¼ cup sweetener and the pineapple extract in a small bowl. Sprinkle that on top of the pineapple.
Add the cake ingredient to a food processor. Process until smooth. Drop by spoonfuls on top of the pineapple. Gently spread to cover all the pineapple.
Bake for 30 minutes until golden brown and slightly firm to the touch. Cool for 20 minutes and then invert onto a serving platter. Store leftovers in the fridge.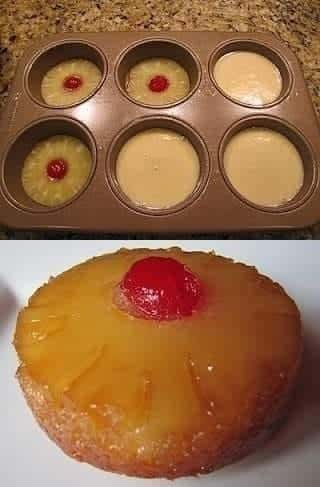 Notes
Nutrition: This cake has 12 pieces. Each piece has 5 total carbs and 3 NET carbs. These numbers include the small amount of fresh pineapple. I believe that this can be keto-friendly with these numbers. It is up to you if you want to use the real pineapple.
Notes on Sweeteners:
I use my own blend of xylitol, erythritol, and stevia in my recipes. This is twice as sweet as sugar. It is comparable to Trim Healthy Mama Gentle Sweet and Truvia.
To sub in Swerve or Lakanto Monk Fruit use 1.5 times the amount of sweetener called for.
To sub in Pyure or Trim Healthy Mama Super Sweet use half the amount of sweetener called for.
Substitutions will work in most recipes. They may not work in candies, such as caramel.
Nutrition
Serving: 1piece | Calories: 153 | Carbohydrates: 5g | Protein: 3g | Fat: 13g | Saturated Fat: 5g | Cholesterol: 48mg | Sodium: 87mg | Potassium: 119mg | Fiber: 2g | Sugar: 2g | Vitamin A: 290IU | Vitamin C: 6.6mg | Calcium: 72mg | Iron: 0.6mg
Mini-Pineapple Down-Upside Cakes Recipe!!!
Take a classic American dessert recipe, and add a modern twist by serving them as individual sized cakes. These mini sweets can be made from fresh or canned pineapple.
* Ingredients :
° 1/4 cup melted butter
° 3/4 cup packed brown sugar
° 3 cans (8 ounces each) pineapple slices in juice, drained from juice
° 12 pcs maraschino cherries
° 1 box Betty Crocker™️ Super Moist™️ Yellow Cake Blend
° 1 cup pineapple juice (from cans of pineapple)
° 1/2 cup vegetable oil
° 3 eggs
* steps :
1
Heat oven to 350 degres f . Put 1 teaspoon of melted butter in 12 large ungreased cupcake or jumbo cups. Adding 1 tsp of brown sugar to every muffin cup. Putting  tranche of pineapple in every cup. Place a cherry in the middle of each pineapple slice.
2
In a large bowl, beat cake mix, 1 cup pineapple juice, oil and eggs with an electric mixer on low speed until mixture is moistened. Beat two minutes at high speed. Divide mixture evenly among muffin cups.
3
Bake for 30 to 35 minutes or until cake is golden brown and cake has risen again, touching slightly in centre. Cool the cakes in cups, 5 to 10 minutes.
4
Place a cookie sheet upside down on top of each muffin tray; Flip the cookie sheet and muffin tray over. Remove the pan. Serve the cake warm.
Enjoy !