This delicious Keto White Chicken Chili can be made in the Instant Pot in 20 minutes or slow cook if your prefer. Perfect for any night of the week!
WHITE CHICKEN CHILI
This keto one-pot white chicken chili takes just 10 minutes to prep and only 20 minutes to cook in the Instant Pot and is the perfect bowl of comfort on any night of the week! This stores well in the fridge for up to 3 days or freezer for 2 months so you can make a big batch, put in Tupperware and freeze for when you don't have time to cook.
Serve with cauliflower rice or low-carb vegetables, like broccoli, cauliflower, or spinach. Add right to the Instant pot and make it more into a chicken chili soup. Feel free to customize it and make it your own. This is a meal everyone in the family will enjoy, especially when they can add all their favorite toppings, like avocado, cheese, sour cream, or fresh cilantro! 
INSTANT POT OR SLOW COOKER
I get it. Maybe you just haven't gotten on board with the purchase of an Instant Pot. But honestly, if you like meals that can be enjoyed with fresh or frozen meat in under an hour, the Instant Pot is kitchen equipment worth the investment. Of course I love my slow cooker, but there are just some days you have all the intentions to get it done in the morning and it just doesn't happen. Your Instant Pot is to the rescue. You can make this white chicken chili in either the slow cooker or Instant Pot. You can also make my delicious short ribs in either if you have my cookbook, Naturally Keto, I gave directions for both. The Instant Pot will save you time and is worth every penny in my opinion!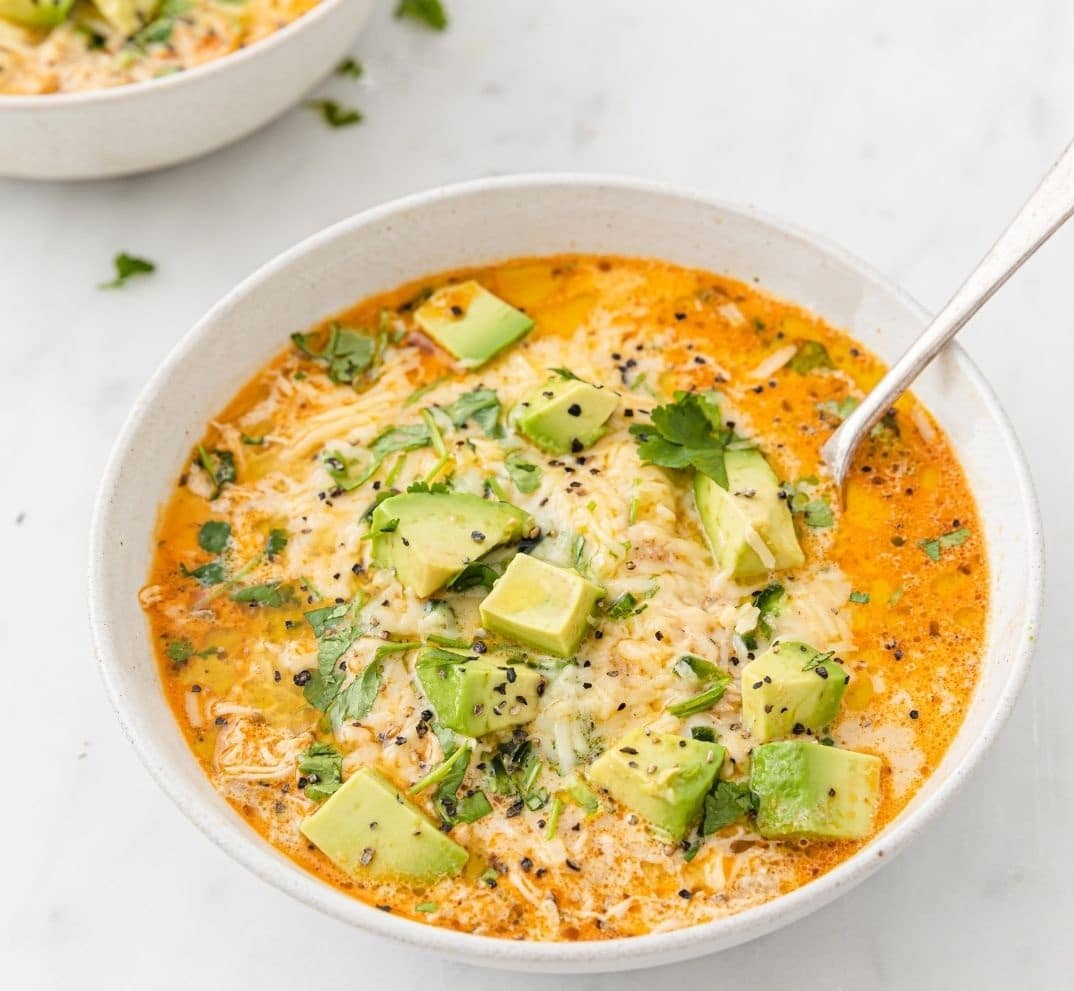 KETO CHILI WITHOUT BEANS?
Is chili a chili if it doesn't include beans? Why yes, it most certainly is. In fact, there are no beans in a real chili, according to Texans. You will find chunks of beef in a spicy red sauce that contains chiles. Chili is actually short hand for "chile con carne" which translates to chili peppers with meat. So there you have it. No beans are actually in a true chili. If you're looking for a red sauce, no bean, true chili, instead of this white chicken chili I'm sharing today, no worries, I've got you covered. Try my spicy No Bean Chili with some delicious, keto "corn" bread! The toppings is what makes a delicious chili in my opinion! See below for all our favorite chili toppings!
CAN YOU SWAP CHICKEN BREASTS WITH CHICKEN THIGHS?
Absolutely! If you're really not a fan of chicken breasts, you can certainly swap them with boneless, skinless chicken thighs if you prefer. I will tell you though, don't fear that this recipe with chicken breasts will be dry!! It will not be, especially when using the Instant Pot. You will have awesome, tender chicken that shreds easily for this keto white chicken chili.
WHITE CHICKEN CHILI TOPPINGS
Monterey Jack Cheese– This cheese has a nice sharp flavor and would be perfect shredded over the top of your bowl of white chicken chili, but any Mexican style cheese would work.
Avocado– I can't think of anything more delicious than a perfectly ripe avocado that melts in your mouth like butter with each bite of spicy chicken chili.
Fresh Cilantro– Adding some fresh herbs like cilantro is a must with any chili. If you dislike cilantro, fresh parsley would also work well here.
Sour Cream– Smooth, and creamy and helps you handle the spice and heat in your chicken chili.
Jalapeños– For those who are more adventurous in the spice department, feel free to add some sliced jalapeños to your bowl.
Ingredients
2 

tablespoons

 

butter

 

(or ghee) (or olive oil for dairy-free)

24

 

ounces

 

chicken breasts

 

boneless and skinless (or 670g)

2

 

ounces

 

yellow onion

 

(or 60g)

1.5

 

teaspoon

 

ground cumin

1

 

teaspoon

 

ground coriander

2

 

teaspoons

 

dried oregano

½

 

teaspoon

 

paprika

¼

 

teaspoon

 

cayenne pepper

 

(optional)

1

 

teaspoon

 

sea salt

 

flaked (or to taste)

½

 

teaspoon

 

black pepper

 

(or to taste)

4

 

ounces

 

green chiles

 

(1 – 4oz can chopped, mild)

1

 

small

 

jalapeno

2

 

cloves

 

garlic

 

minced

2.5

 

cups

 

chicken broth

¼

 

cup

 

heavy cream

2.5

 

ounces

 

cream cheese

 

(or 80g) (for dairy-free use ⅔ cup coconut milk to replace heavy cream and cream cheese)
Optional Toppings
¾

 

cup

 

Monterey jack cheese

 

shredded (or Mexican or cheddar cheese) (or 85g)

1

 

avocado

 

cubed

3

 

tablespoons

 

fresh cilantro

 

chopped

⅓

 

cup

 

sour cream

sliced jalapenos
Ingredients
2 

tablespoons

 

butter

 

(or ghee) (or olive oil for dairy-free)

24

 

ounces

 

chicken breasts

 

boneless and skinless (or 670g)

2

 

ounces

 

yellow onion

 

(or 60g)

1.5

 

teaspoon

 

ground cumin

1

 

teaspoon

 

ground coriander

2

 

teaspoons

 

dried oregano

½

 

teaspoon

 

paprika

¼

 

teaspoon

 

cayenne pepper

 

(optional)

1

 

teaspoon

 

sea salt

 

flaked (or to taste)

½

 

teaspoon

 

black pepper

 

(or to taste)

4

 

ounces

 

green chiles

 

(1 – 4oz can chopped, mild)

1

 

small

 

jalapeno

2

 

cloves

 

garlic

 

minced

2.5

 

cups

 

chicken broth

¼

 

cup

 

heavy cream

2.5

 

ounces

 

cream cheese

 

(or 80g) (for dairy-free use ⅔ cup coconut milk to replace heavy cream and cream cheese)
Optional Toppings
¾

 

cup

 

Monterey jack cheese

 

shredded (or Mexican or cheddar cheese) (or 85g)

1

 

avocado

 

cubed

3

 

tablespoons

 

fresh cilantro

 

chopped

⅓

 

cup

 

sour cream

sliced jalapenos
Nutrition
Serving: 
1
serving
 | 
Calories: 
387
kcal
 | 
Carbohydrates: 
7
g
 | 
Protein: 
39
g
 | 
Fat: 
22
g
 | 
Saturated Fat: 
12
g
 | 
Trans Fat: 
1
g
 | 
Cholesterol: 
143
mg
 | 
Sodium: 
1520
mg
 | 
Potassium: 
852
mg
 | 
Fiber: 
2
g
 | 
Sugar: 
2
g
 | 
Vitamin A: 
708
IU
 | 
Vitamin C: 
22
mg
 | 
Calcium: 
71
mg
 | 
Iron: 
2
mg