Ingredients:
2 cups of almond flour
1/4 cup of coconut flour
1/4 cup of erythritol (or other keto-friendly sweetener)
1 tablespoon of baking powder
1/2 teaspoon of salt
1/2 cup of cold unsalted butter, cut into small pieces
1/2 cup of heavy cream
2 large eggs
1 tablespoon of orange zest
1/2 cup of fresh cranberries, chopped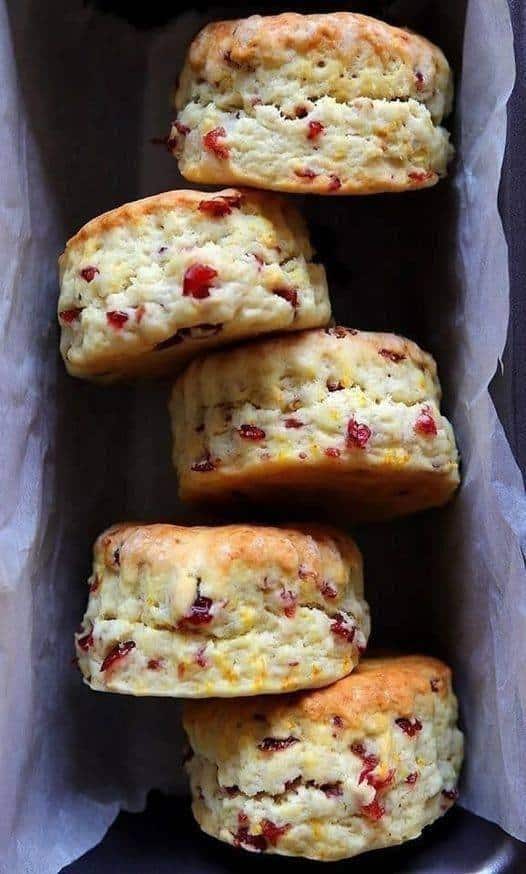 Instructions:
Preheat the oven to 350°F (175°C) and line a baking sheet with parchment paper.
In a large bowl, whisk together the almond flour, coconut flour, erythritol, baking powder, and salt.
Add the cold butter to the bowl and use a pastry cutter or your hands to mix it into the dry ingredients until the mixture resembles coarse crumbs.
In a separate bowl, whisk together the heavy cream, eggs, and orange zest.
Pour the wet ingredients into the dry ingredients and stir until a dough forms.
Fold in the chopped cranberries.
Use your hands to form the dough into a ball and then press it down into a disc that's about 1 inch thick.
Cut the disc into 8 equal wedges and place them on the prepared baking sheet.
Bake for 20-25 minutes or until the scones are golden brown and a toothpick inserted into the center comes out clean.
Let the scones cool on the baking sheet for 5 minutes before transferring them to a wire rack to cool completely.
Enjoy your delicious Keto Orange, Cranberry Cream Scones!