This Keto Meatball Casserole should be it if you are looking for a new family dinner. Juicy, flavorful meatballs baked until golden and then covered with tomato sauce and cheese. This delicious meal was a hit with my family and should be a hit with yours. This easy family dinner is also THM S, grain-free, gluten-free, and a low-carb recipe.
Prep Time: 15 minutes
Cook Time: 45 minutes
Total Time: 1 hour
Course: dinner, Main Course
Cuisine: American, Italian
Servings: 8 servings
Calories: 382
Equipment
Large 9×13 Casserole Dish
Ingredients
Meatball Ingredients:
▢1 lb ground turkey
▢1 lb Italian sausage
▢One cup of shredded mozzarella
▢⅓ cup grated or shredded parmesan
▢1 shredded zucchini about 1 cup
▢1 egg
▢2 teaspoon dried minced onion
▢2 teaspoon dried minced garlic
▢Two teaspoons of dried basil
▢1 teaspoon salt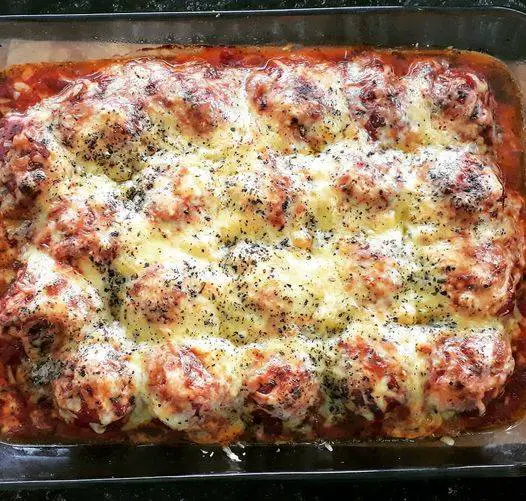 Casserole Ingredients:
▢1 cup marinara sauce
▢8 oz shredded cheese
Instructions
Preheat the oven to 400. With cooking spray, spray a casserole dish.
For the meatballs, combine all the ingredients and mix thoroughly. Make about TWENTY FOUR meatballs and put them in the casserole dish.
Until the meatballs are cooked through, bake for THIRTY minutes. From the casserole dish, carefully drain the cooking liquid.
Top with cheese and sauce. Until the cheese is melted, bake for an additional 10-15 minutes.
Optional: At the end, I broiled for 3-4 minutes to toast the cheese. The cheese can burn easily so watch it carefully if you put it under the broiler.
Nutrition
Serving: 3 meatballs
Calories: 382
Carbohydrates: 5g
Protein: 36g
Fat: 24g
Saturated Fat: 11g
Cholesterol: 129mg
Sodium: 734mg
Potassium: 543mg
Fiber: 1g
Sugar: 2g
Vitamin A: 477IU
Vitamin C: 8mg
Calcium: 298mg
Iron: 2mg