Keto Fried Pickles
Ingredients
● 16 ounces dill pickles
● 2 eggs beaten
● 2 tablespoons heavy cream
● 1/2 cup almond flour
● 1/2 cup Parmesan cheese grated
● 1 teaspoon Cajun seasoning
● 1/4 teaspoon cayenne pepper more or less to taste
● Salt and Pepper to Taste
● Avocado Oil for brushing or frying
● Keto Ranch Dressing for dipping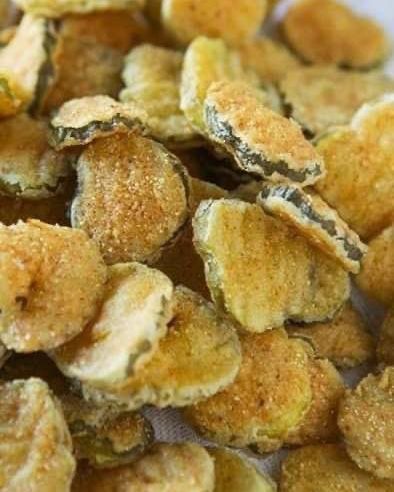 Instructions
1. Cut the pickles in slices
2. Combine the eggs and heavy cream in a shallow dish.
3. In a separate dish, combine the almond flour, Parmesan cheese, cajun seasoning, cayenne pepper, and salt and pepper.
4. Dip the pickle slices in the eggs, and then coat with the almond flour mixture.
5. Freeze for 10 minutes.
You can Air Fry, Bake, or Deep fry it!
Air Fryer Instructions
1. Heat the air fryer to 400 degrees.
2. Spray the pickles with oil and cook for 10 to 12 minutes, flipping halfway through.
Note: Be careful of over-salting! Pickles are already salty on their own.