This recipe is super easy to throw together. Keto Creamy Chicken Broccoli Casserole is a rich, cheesy, and quick dinner for a weeknight feast!
With only 4g net carbs per serve, Keto Creamy Chicken Broccoli Casserole a very satisfying comfort food.
One-pot style casserole that's not only very low-carb but you can make ahead and cook the next day as needed!
Ingredients
1 pound broccoli cut into florets
1 rotisserie chicken meat shredded
8 ounces cream cheese
3/4 cup heavy cream
1/2 cup unsweetened almond milk
1 tablespoon dijon mustard
1 teaspoon garlic powder
1/2 teaspoon salt
1/4 teaspoon pepper ground
1/4 cup fresh basil chopped
1 cup cheddar cheese shredded
Instructions
Preheat your oven to 390F.
Over high heat, place a saucepan of water and until al dente, boil the broccoli florets. Put it in a bowl after draining well along with the shredded chicken.
Take a saucepan, add the pepper, cream, almond milk, mustard, garlic, salt and cream cheese and place over low heat. Whisk until the sauce is smooth.
Into the chicken and broccoli mixture, pour the warm sauce , add the basil, and mix well.
Into a casserole dish, pour the mixture and top with the shredded cheese.
Bake in the oven for 20-30 minutes, until the cheese has browned and warmed through.
Serve immediately.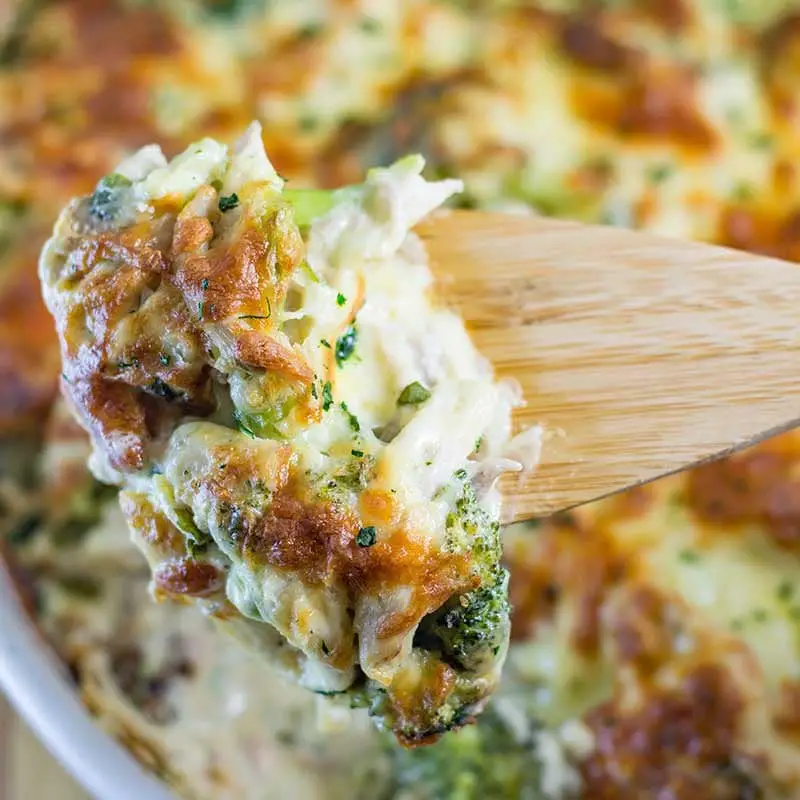 Nutrition
Serving: 250g | Calories: 416kcal | Carbs: 6g | Protein: 31g | Fat: 30g | Saturated Fat: 15g | Cholesterol: 160mg | Fiber: 2g | Sugar: 2g |