Ingredients:
3 large eggs, separated
1/4 tsp cream of tartar
3 tbsp cream cheese, softened
1/4 tsp salt
1/2 tsp garlic powder (optional)
1/4 cup grated parmesan cheese (optional)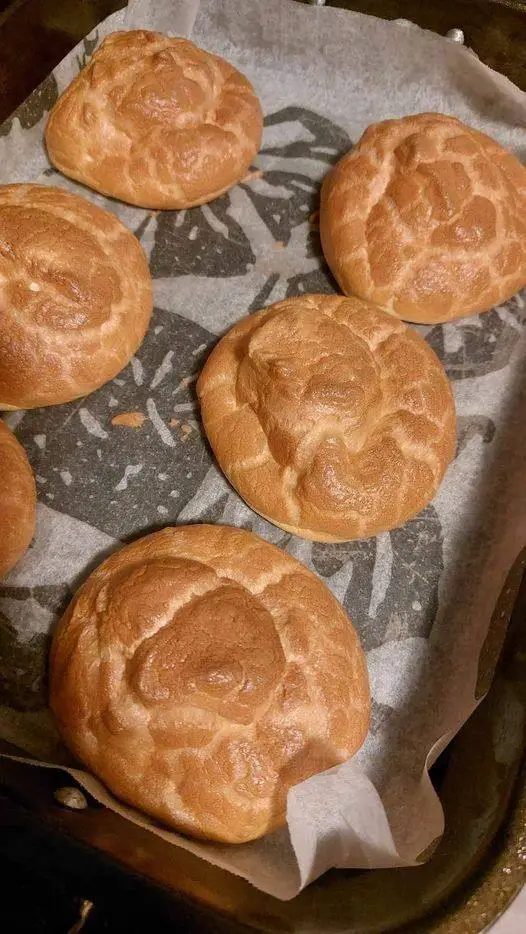 Instructions:
Preheat your oven to 300°F (150°C) and line a baking sheet with parchment paper.
In a large bowl, beat the egg whites and cream of tartar together until stiff peaks form.
In a separate bowl, beat the egg yolks, cream cheese, salt, and garlic powder (if using) together until smooth.
Gently fold the egg yolk mixture into the egg whites, being careful not to deflate the mixture.
If using parmesan cheese, fold it into the mixture.
Use a spoon to drop the mixture into 6-8 mounds on the prepared baking sheet.
Use the back of a spoon to smooth out each mound into a circular shape.
Bake for 25-30 minutes or until the cloud bread is lightly golden brown on top.
Remove from the oven and let cool for a few minutes before serving.
Serve as is, or use the cloud bread to make sandwiches or as a low-carb alternative to regular bread.
Note: You can experiment with different seasonings and flavors to customize the cloud bread to your taste.