RECIPE:
Chaffle ingredients
1/2 cup mozzarella cheese
1 tablespoon almond flour
1/4 tsp baking powder
1 eggs
1 tsp cinnamon
1 tsp Granulated Swerve
Cinnamon roll swirl Ingredients
1 tbsp butter
1 tsp cinnamon
2 tsp confectioners swerve
Keto Cinnamon Roll Glaze
1 tablespoon butter
1 tablespoon cream cheese
1/4 tsp vanilla extract
2 tsp swerve confectioners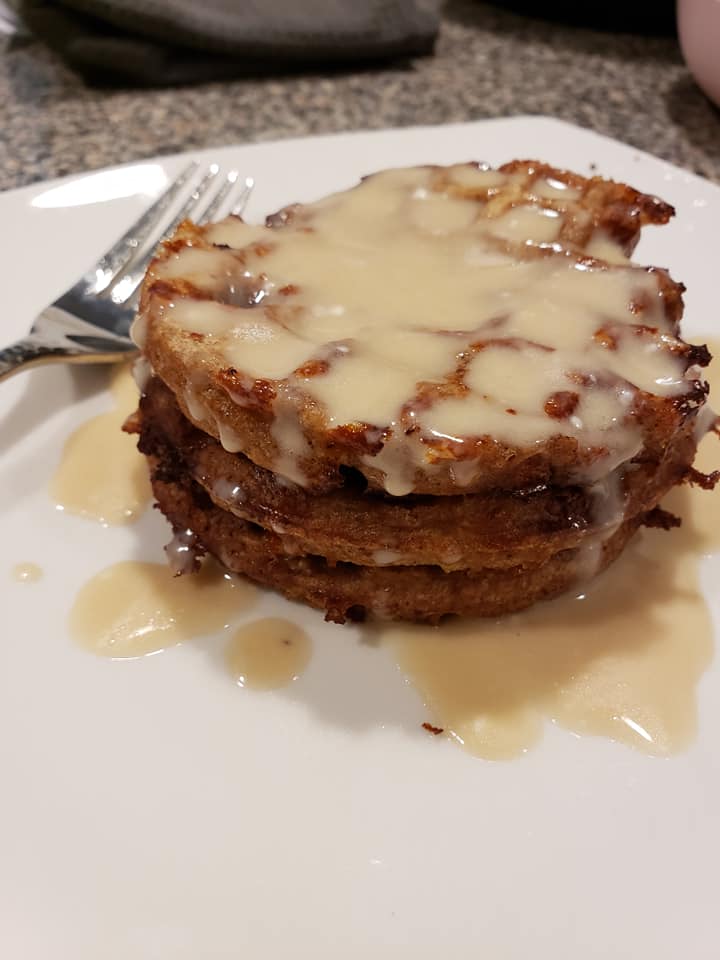 Instructions
Cinnamon Roll Chaffles
Plug in your Mini Dash Waffle maker and let it heat up.
In a small bowl mix the mozzarella cheese, almond flour, baking powder, egg, 1 teaspoon cinnamon and 1 teaspoon swerve granulated and set aside.
In another small bowl add a tablespoon of butter, 1 teaspoon cinnamon, and 2 teaspoons of swerve confectioners sweetener.
Microwave for 15 seconds and mix well.
Spray the waffle maker with non stick spray and add 1/3 of the batter to your waffle maker. Swirl in 1/3 of the cinnamon, swerve and butter mixture onto the top of it. Close the waffle maker and let cook for 3-4 minutes.
When the first cinnamon roll chaffle is done, make the second and then make the third.
While the third chaffle is cooking place 1 tablespoon butter and 1 tablespoon of cream cheese in a small bowl. Heat in the microwave for 10-15 seconds. Start at 10 and if the cream cheese is not soft enough to mix with the butter heat for an additional 5 seconds.
Add the vanilla extract and the swerve confectioners sweetener to the butter and cream cheese and mix well using a whisk.
Drizzle keto cream cheese glaze on top of chaffle.
Nutrition
Calories: 180kcal | Carbohydrates: 3g | Protein: 7g | Fat: 16g | Saturated Fat: 9g | Cholesterol: 95mg | Sodium: 221mg | Potassium: 77mg | Fiber: 1g | Sugar: 1g | Vitamin A: 505IU | Calcium: 148mg | Iron: 1mg