Ingredients:
For the cookie layer:
2 cups almond flour
1/2 cup butter, softened
1/2 cup keto-friendly sweetener
1 egg
1 tsp vanilla extract
1/2 tsp baking soda
1/2 tsp salt
1/2 cup sugar-free chocolate chips
For the cheesecake layer:
16 oz cream cheese, softened
1/2 cup keto-friendly sweetener
2 eggs
1 tsp vanilla extract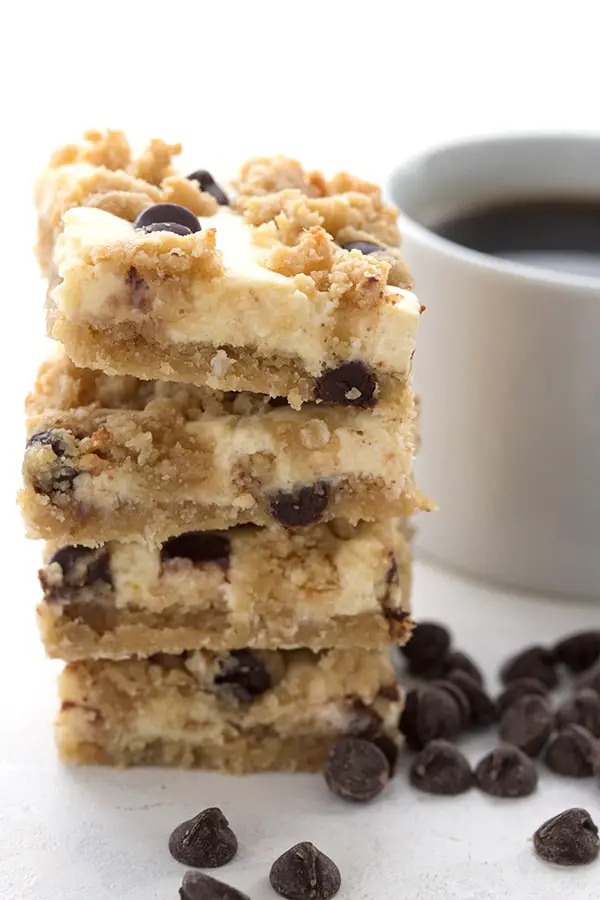 Instructions:
Preheat the oven to 350°F (175°C). Line an 8×8 inch baking dish with parchment paper.
In a large mixing bowl, cream together the softened butter and sweetener until light and fluffy.
Add the egg and vanilla extract and mix well.
Add the almond flour, baking soda, and salt and mix until a dough forms.
Fold in the chocolate chips.
Press the cookie dough evenly into the bottom of the prepared baking dish.
In a separate bowl, beat the cream cheese and sweetener until smooth and creamy.
Add the eggs and vanilla extract and mix until well combined.
Pour the cheesecake mixture over the cookie dough layer.
Bake for 25-30 minutes or until the cheesecake layer is set.
Let cool to room temperature, then chill in the refrigerator for at least 2 hours.
Slice into bars and serve.
Enjoy your delicious Keto Chocolate Chip Cookie Cheesecake Bars!