Ingredients:
1 lb. boneless, skinless chicken breasts, cut into strips
1 cup almond flour
1 tsp. paprika
1 tsp. garlic powder
1 tsp. onion powder
1 tsp. dried thyme
1 tsp. dried oregano
1 tsp. salt
1/2 tsp. black pepper
2 eggs
2 tbsp. heavy cream
1/2 cup grated Parmesan cheese
Avocado oil, for frying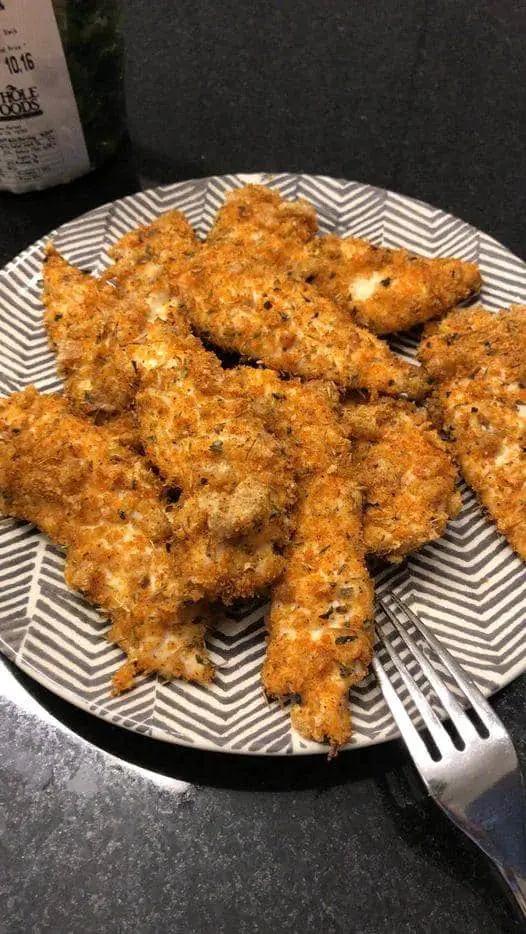 Instructions:
In a medium bowl, whisk together the almond flour, paprika, garlic powder, onion powder, thyme, oregano, salt, and black pepper.
In a separate bowl, whisk together the eggs and heavy cream.
Dip each chicken strip in the egg mixture, then dredge in the almond flour mixture, making sure to coat the chicken evenly.
Heat 1/4 inch of avocado oil in a large skillet over medium-high heat.
Once the oil is hot, add the chicken strips to the skillet, being careful not to overcrowd the pan.
Cook the chicken for 3-4 minutes per side, or until golden brown and cooked through.
Remove the chicken from the skillet and place it on a paper towel-lined plate to absorb any excess oil.
Sprinkle the grated Parmesan cheese over the hot chicken strips.
Serve with your favorite low-carb dipping sauce and enjoy!
This recipe makes about 4 servings. You can adjust the seasoning to your liking or add some cayenne pepper for an extra kick of heat. Enjoy!