This Asparagus Casserole Keto Recipe is easy to make and delicious. It is made with fresh asparagus, a creamy cheese sauce, and crunchy bacon. Your whole family will love this keto-friendly comfort food side dish. Course: Side Dish Cuisine: American, casual Servings: 6 Calories: 241 kcal
Ingredients
2 bunches asparagus
1 tbsp butter
1/2 oz cream cheese, softened
1/2 cup heavy whipping cream
1 tbsp chicken broth
1/4 tsp Italian seasoning
1/2 tsp garlic powder
1/4 tsp paprika
1/8 tsp salt
1/8 tsp pepper
1/3 cup parmesan cheese, grated
1/8 cup pepper jack cheese, grated
1/2 cup mozzarella cheese, grated
1/2 tsp red pepper flakes
1/3 cup bacon, cooked and crumbled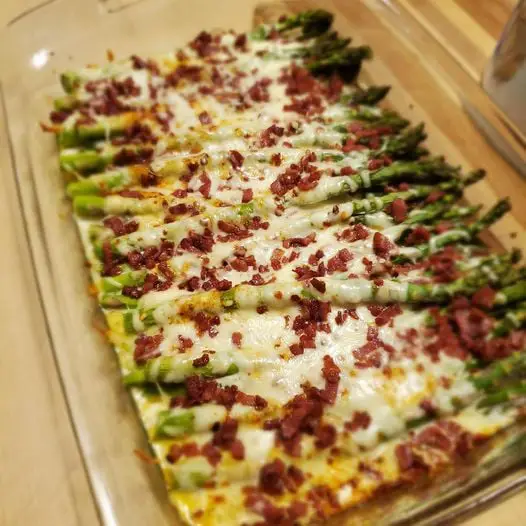 Instructions
Preheat oven to 400 degrees. Wash and trim the asparagus, then grease the 9 X 13 baking pan and lay them in it.See how to trim asparagus in the notes below.
In a skillet melt butter on medium heat, then add softened cream cheese, heavy whipping cream, chicken broth, garlic powder, paprika, Italian seasoning, salt, and pepper. Continuously whisk until the ingredients are thoroughly combined.
Reduce to a medium/low heat and allow the sauce to simmer gently boiling until the heavy whipping cream has reduced and thickened. Keep whisking so that it doesn't stick to the bottom of the pan. It will take a few minutes for the sauce to reduce and thicken.
Once it has thickened, add the parmesan and pepper jack cheese then continue to stir until the cheeses melt and the sauce is smooth.
Pour the cheese sauce over the asparagus down the middle of the casserole dish, avoiding the tops of the asparagus. Next, sprinkle the mozzarella cheese and crushed red pepper flakes on top of the cheese sauce. (Make sure to check out the process pics above the recipe card.)
Bake for 15 minutes.If you prefer crunchier asparagus, you can reduce the baking time for 2-3 minutes.
Remove from oven and add bacon crumbles to the top.
Bake for another 3 minutes and enjoy!
Nutrition
Calories: 241kcal | Carbohydrates: 8g | Protein: 10g | Fat: 20g | Saturated Fat: 11g | Cholesterol: 58mg | Sodium: 387mg | Potassium: 358mg | Fiber: 3g | Sugar: 3g | Vitamin A: 1742IU | Vitamin C: 9mg | Calcium: 178mg | Iron: 3mg
If you are a keto newbie- This should help pretty much all you need to know.. FREE… copy, paste and share to help other newbies.
Share and Save Profile
-Eggs, eggs, eggs zero carbs!
– Meats: ZERO CARBS
• Beef- Ground beef, Steak, Ribs, and Roasts
• Pork- Chops, Ribs, BACON, Loins, sausage
• Chicken/ Turkey- Thighs w/ skin or wings are the best because breasts are high in protein. However, you CAN eat breasts, just have to eat more fat to compensate.
• Fish- Tuna, Salmon, Cod, Haddock, etc.
• Shrimp/ Lobster- Go crazy, use lots of butter!
-Cheese: MOST are no carb, almost all are low carb
• Mozerella & Cheddar- Buy in bulk, they freeze well and are insanely versatile!
• Colby jack, pepper jack, monterrey jack
• Taco style, Mexican style
• Ricotta- Freezes well, very versatile
• Cottage cheese- Good to throw in your lunch with berries, usually around 4-8g of Carbs per serving
• Cream Cheese- Freezes very well, this is one of the things that I always glance at whenever I go to the store, and always buy a bunch of if it's under 75 cents per 8oz.
– Vegetables: No potatoes! Get your carbs from above ground veggies!!!
• Leafy greens- Spinach, Spring mix, Kale, Romaine
• Zucchini- Great for a noodle substitute!
• Avacado- Awesome source of natural fat!
• Spaghetti Squash- Versatile, makes a great spaghetti substitute and is even great for making hash browns!!
• Peppers- Jalepeño, banana, green/ red/ yellow/ orange bell
• Broccoli- Great with cheese, steamed or just raw!
• Asparagus- Awesome roasted or sautéed with bacon and garlic!
• Cauliflower- AWESOME potato substitute!!
• Celery- Great with cream cheese or all natural peanut butter!
• Pickles (Read nutrition labels, watch for sugar and carbs)
• Green beans- Awesome sautéed in bacon grease with garlic, (watch portion size, though).
• Onions- Red, yellow: use somewhat sparingly, to taste
– Fruits: Most are a no-no, especially bananas, oranges and grapes.
• Lemon/ Limes- Adds great flavor!
– Nuts (grams of Carbs per 100 grams, or 3.5 oz)
• Hazelnut/ Walnut/ Peanut (7g)
• Butter: Kerry Gold is best but just make sure it's REAL butter and not a spread or margarine
• MCT oil- easily ordered online/ in specialty stores
-Dressings/ Condiments/ Fats
• Ranch, Blue cheese, Cesar, Thousand Island, Balsamic- Watch carbs/ sugar, but there's tons of brands, so you can find one you love!
• Mayo- Natural/ organic is best, but I use Hellmann's all the time.
• "NO SUGAR ADDED" Ketchup or sugar free ketchup
• G. Hughes brand sugar free BBQ sauce
• Yellow/ Spicy Brown Mustard
– Liquids: Use as base for sauces/ soups
• Heavy Whipping Cream (HWC)
• Broths/ Stocks: Stay away from reduced fat. Bone broth is awesome!
• Slim Jims/ jerky (watch carbs)
• Homemade cheese its/ tortilla chips
• Pork rinds (0 carbs, very versatile. Can be used as breading, nacho substitute or even sprinkled with cinnamon & stevia and eaten like cereal with Almond milk and tastes like cinnamon toast crunch!)
• Crystal Light- Tons of options and very convenient!
• Coffee- Add a Tablespoon of coconut oil or MCT oil, Stevia/erythritol, heavy whipping cream and vanilla, pumpkin extract or Cocoa powder & peppermint extract *BOOM* Homemade creamer!
• Beers (grams of carbs per 12 oz serving)
Bud Select 55 (1.9)
MGD 64 (2.4)
Rolling Rock Green Light (2.4)
Michelob Ultra (2.6)
Bud Select (3.1)
Beck's Premier Light (3.2)
Natural Light (3.2)
Michelob Ultra Amber (3.7)
Coors Light (5)
Amsterdam Light (5)
Bud Light (6.6)
• Vodka: Whipped Vodka & flavored water or pineapple Pinnacle with crystal light are a couple of my favorites!
• Whiskey shot (0g carbs)
• Tequila shot (0g carbs)
• Champagne (~1g per serving)
• Dry wine (~2g per serving)
– Other common Ingredients I use
• Spices: Garlic powder, onion powder
– Dont forget your electrolytes, they are needed daily.
• A good form of electrolytes is:
• Pink Himalayan salt added to your food
– Strict keto – counts all macros, does not eat processed foods.
– Lazy keto – doesn't track all macros, still eats processed foods, as long as they are on plan
– Macros are a break down of the calories you intake for the day.
– Carbs are a limit – try not to go over your carb limit. 20 NET CARBS!
– Fat is a lever – you don't have to meet your fat macro, it's simply there to help you get full.
– Protein is a goal- try your best to reach your protein goal.