Ingredients:
4 cups broccoli florets
1 lb boneless, skinless chicken breasts, cooked and diced
1/2 cup heavy cream
1/2 cup sour cream
1/2 cup mayonnaise
1 tsp garlic powder
1 tsp onion powder
1/2 tsp salt
1/4 tsp black pepper
1/2 cup shredded cheddar cheese
1/2 cup shredded mozzarella cheese
1/4 cup grated Parmesan cheese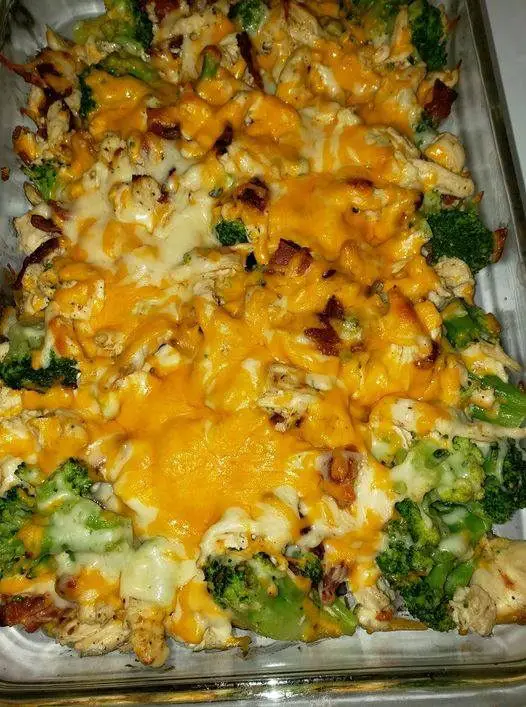 Instructions:
Preheat your oven to 375°F (190°C).
Steam or blanch the broccoli florets until they are tender but still slightly firm. Drain well.
In a large bowl, whisk together the heavy cream, sour cream, mayonnaise, garlic powder, onion powder, salt, and black pepper.
Add the cooked and diced chicken to the bowl and stir to coat.
Add the cooked broccoli to the bowl and stir to combine.
Transfer the chicken and broccoli mixture to a 9×13 inch baking dish.
Sprinkle the cheddar and mozzarella cheeses on top of the chicken and broccoli mixture.
Sprinkle the grated Parmesan cheese on top of the shredded cheeses.
Bake in the preheated oven for 20-25 minutes, or until the cheese is melted and bubbly.
Remove the casserole from the oven and let it cool for a few minutes before serving.
Enjoy your delicious Keto Broccoli Chicken Cheese Casserole!