Ingredients:
1 lb ground beef
1 head of cauliflower, chopped into small florets
1 small onion, chopped
3 cloves garlic, minced
1/2 cup beef broth
1/2 cup heavy cream
1/4 cup grated Parmesan cheese
1 tsp dried thyme
1 tsp dried oregano
1 tsp paprika
Salt and black pepper, to taste
2 tbsp olive oil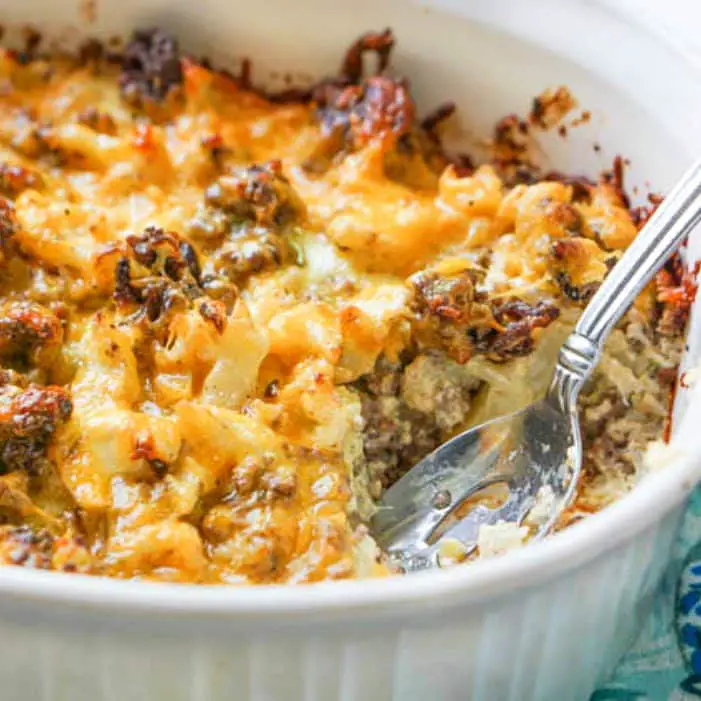 Instructions:
Preheat the oven to 375°F. Grease a 9×13 inch baking dish.
In a large skillet, heat the olive oil over medium-high heat. Add the ground beef and cook until browned, breaking it up with a spoon as it cooks.
Add the onion and garlic to the skillet and cook until softened.
Add the chopped cauliflower, beef broth, heavy cream, Parmesan cheese, thyme, oregano, paprika, salt, and black pepper to the skillet. Stir until everything is well combined.
Transfer the mixture to the prepared baking dish.
Cover the dish with foil and bake for 20 minutes.
Remove the foil and bake for an additional 15-20 minutes, or until the cauliflower is tender and the top is golden brown.
Enjoy your delicious Keto Beef and Cauliflower Casserole!