Ingredients:
1 lb beef chuck roast, cut into 1-inch cubes
1 tbsp olive oil
1 onion, chopped
2 cloves garlic, minced
1 cup beef broth
1 cup crushed tomatoes
1 cup red wine
1 tbsp dried oregano
1 tsp dried thyme
1 tsp salt
1/2 tsp black pepper
1 bay leaf
2 cups sliced carrots
2 cups sliced celery
2 cups sliced mushrooms
1 cup frozen peas
2 tbsp chopped fresh parsley (optional)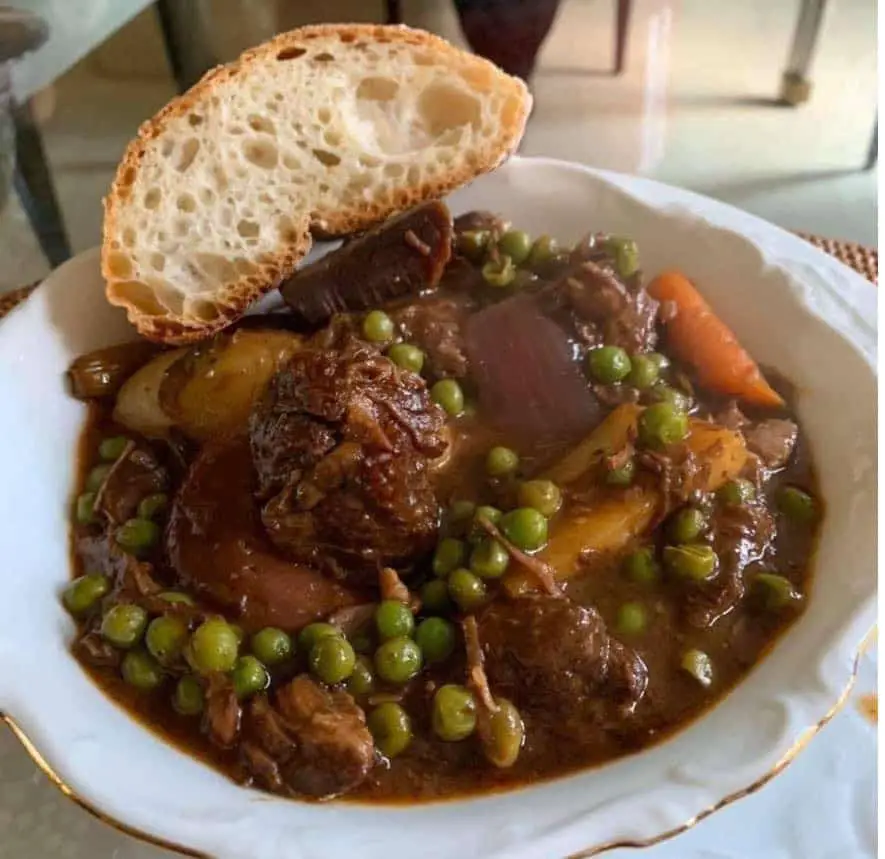 Instructions:
In a large pot or Dutch oven, heat the olive oil over medium-high heat. Add the beef and cook until browned on all sides.
Add the onion and garlic and cook for 2-3 minutes until softened.
Pour in the beef broth, crushed tomatoes, red wine, oregano, thyme, salt, pepper, and bay leaf. Bring to a boil, then reduce heat to low and simmer for 1 hour.
Stir in the carrots, celery, mushrooms and peas. Simmer for an additional 30-45 minutes or until the vegetables are tender.
Remove the bay leaf and discard. Taste and adjust seasoning if necessary.
Serve over mashed potatoes or egg noodles and garnish with chopped parsley, if desired.