This Instant Pot vegetable soup with beans is ready in just 30 minutes and will warm you up to the core. Loaded with veggies and beans, this vegan soup is super nutritious and can be on your table in no time thanks to the magic of pressure cooking.
INGREDIENTS
1 tablespoon olive oil
1 medium onion, diced
4 garlic cloves, finely chopped
2 tablespoons tomato paste
2 teaspoons Italian seasoning
½ teaspoon red chilli flakes
1 medium carrot, diced
2 celery ribs, diced
1 red bell pepper, sliced
100 g (3.5 oz) green beans, halved
1 medium courgette (zucchini), diced
350 g (12.3 oz) baby potatoes, quartered
1 x 400 g (14 oz) can borlotti beans, drained and rinsed
1.25 litre (5 cups) vegetable stock
Freshly chopped parsley, a handful
Salt and pepper to taste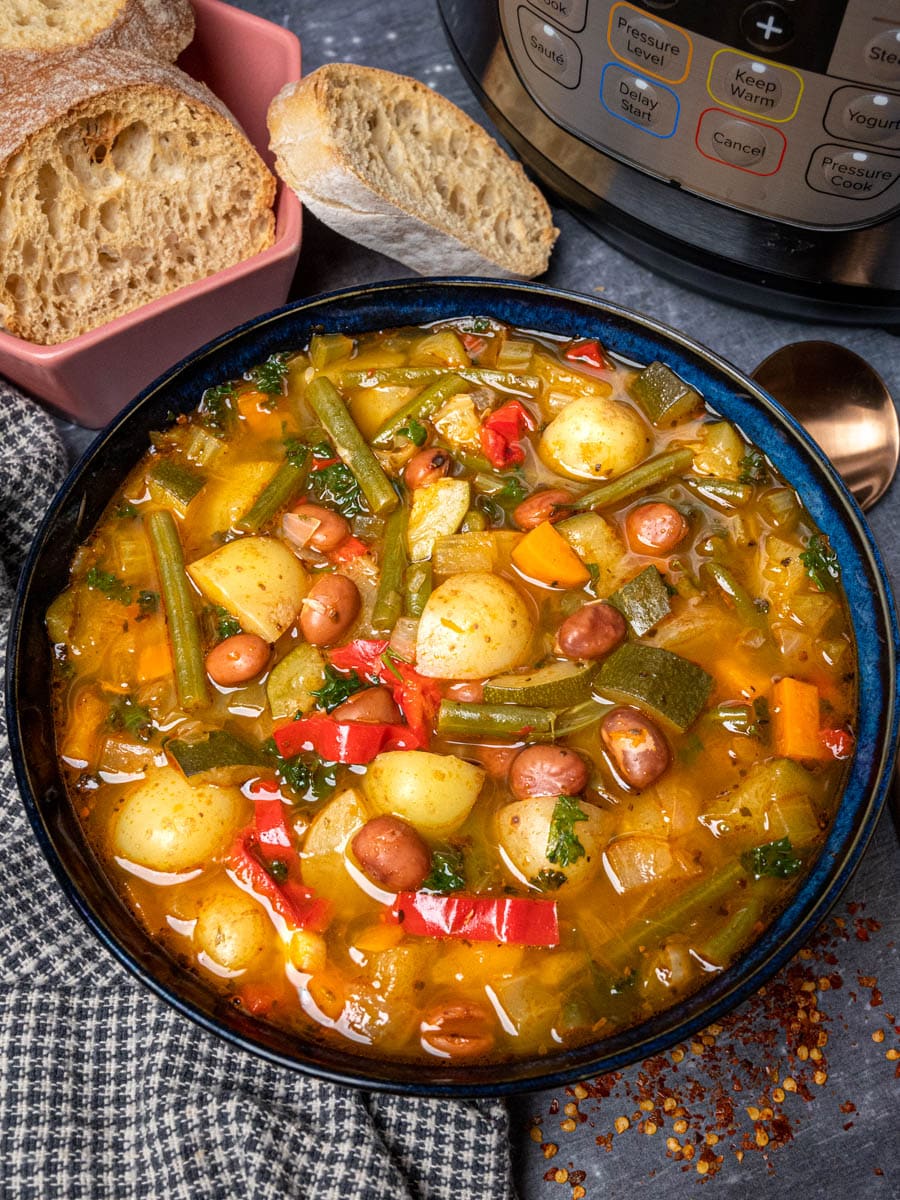 INSTRUCTIONS
Set the Instant Pot to "Sauté" and add the olive oil. When the oil is heated, add the onion and garlic and sauté for 2-3 minutes until slightly softened.
Next, stir in the tomato paste, Italian seasoning and red chilli flakes and continue to cook for another minute. Turn off the "Saute" mode.
Add the carrot, celery, bell pepper, green beans, courgette, baby potatoes and beans to the Pot. Pour the vegetable stock on top of the veggies and stir to combine.
Lock the lid and set the Instant Pot at high pressure for 10 minutes. When finished, perform a quick release by carefully turning the steam valve to "Venting".
Stir the soup, then add the fresh parsley and season to taste.
Serve with your favourite crusty bread, garnished with some extra fresh parsley if you like.
NUTRITION INFORMATION:
YIELD:
 4
SERVING SIZE:
 1
Amount Per Serving: CALORIES: 283TOTAL FAT: 5gSATURATED FAT: 1gTRANS FAT: 0gUNSATURATED FAT: 3gCHOLESTEROL: 0mgSODIUM: 1349mgCARBOHYDRATES: 56gFIBER: 10gSUGAR: 17gPROTEIN: 11g