Recipe
FOR THE SOUP
10

 ounces cooked chestnuts (either roast fresh chestnuts in the oven and peel or (recommended as easier) work with vacuum-packed chestnuts), chopped

2

 shallots, finely chopped

1

 garlic clove, finely minced

1

 piece parsnip, peeled and cubed

2

 tablespoons each: fresh thyme and rosemary, finely chopped

2

 tablespoons Olive oil or butter

1

 1/ 2 

ounces white wine

3

 1/ 3 

cups vegetable broth

6

 1/ 2 

tablespoons heavy whipping cream

2

 tablespoons lemon juice
Salt and pepper, to taste
FOR THE FRIED ONIONS
2

 large white onions, sliced into thin rings

2

 tablespoons Olive oil
Pinch of chili flakes
FOR THE CROUTONS
2

 slices sourdough bread, cut into cubes

1

 tablespoon Olive oil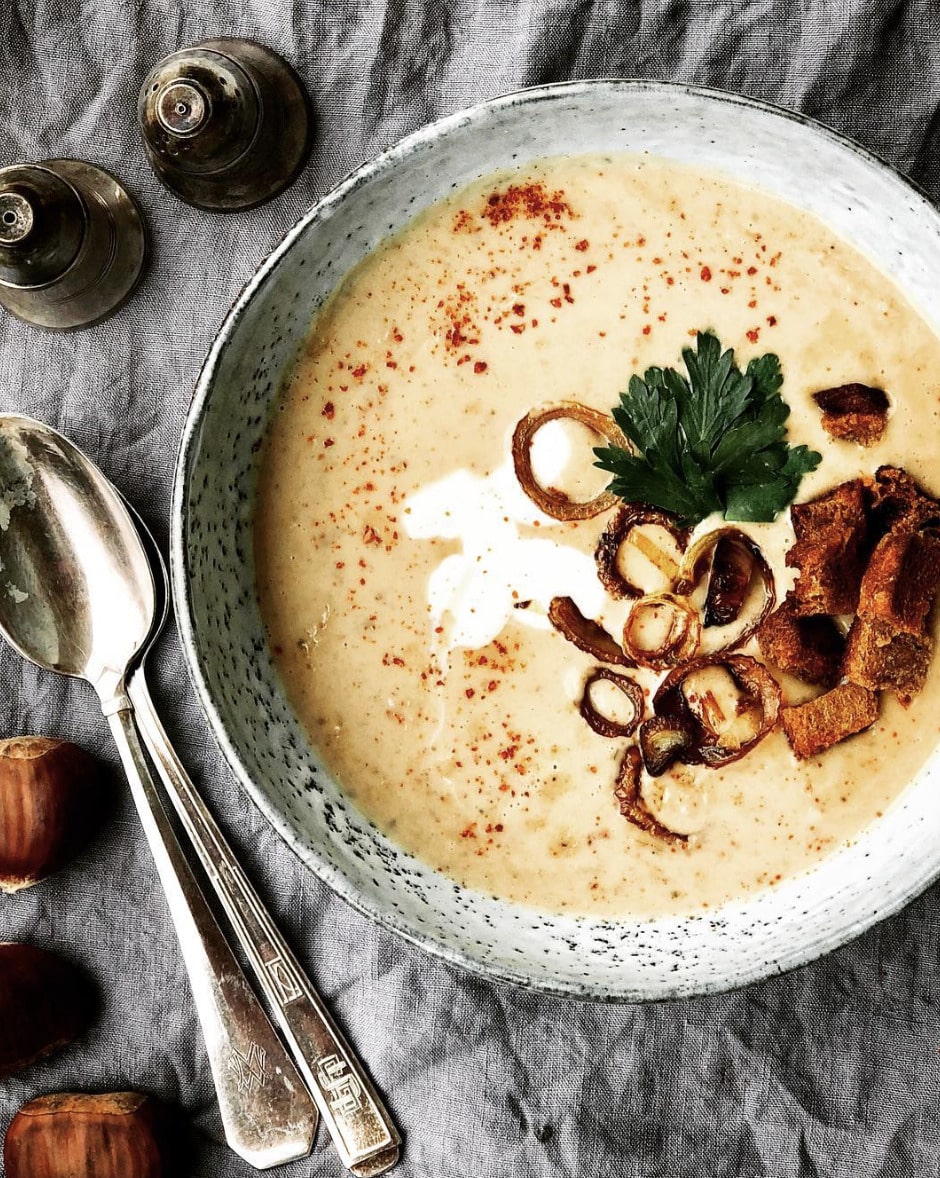 METHOD
STEP 1

Heat butter or oil in a pan, on the stove, over medium heat. Add the shallots to the pan and cook until golden.

STEP 2

Mix in the garlic and parsnips. Cook for 2-3 minutes until fragrant. Then, deglaze the pan with the white wine. Stir frequently and cook 2 minutes.

STEP 3

Add the vegetable broth, chestnuts, and herbs. Bring to a boil, then reduce the heat and simmer for 20 minutes.

STEP 4

To make the fried onions, heat oil in a pan and add chili flakes and sliced onions. Transfer to a kitchen paper towel to cool and sprinkle with salt.

STEP 5

Next, add 1 tablespoon oil to the hot pan and fry the cubed bread until golden and toasted.

STEP 6

Once the soup has finished cooking and cooled for about 10 minutes, puree the soup with a handheld immersion blender (or puree in a blender, in batches). Add more or less cream to the soup depending on your desired thickness of the broth. Season the soup with lemon juice, salt and pepper.

STEP 7

Before serving, garnish each bowl of soup with the fried onion rings and croutons.