This simple and "Grinchily" delicious soup is inspired by Dr. Seuss's classic book and cartoon, The Grinch Who Stole Christmas.
It's a wonderful story about humanity's search for meaning amidst the Christmas story. The Grinch shows us that even those who are filled with prejudice and hate are humans just like us who crave meaning hope, and love.
Ingredients
2 tablespoons of butter

1 medium Sweet Onion, chopped

4 cups or 900 ml Campbells Pho Broth

6 cups shelled fresh or frozen peas

1 cup of fresh mint leaves. Chopped.

Salt & freshly ground pepper to taste

1/2 cup crème fraîche or sour cream (optional)

2-3 tablespoons of Thai Green Curry paste (to taste)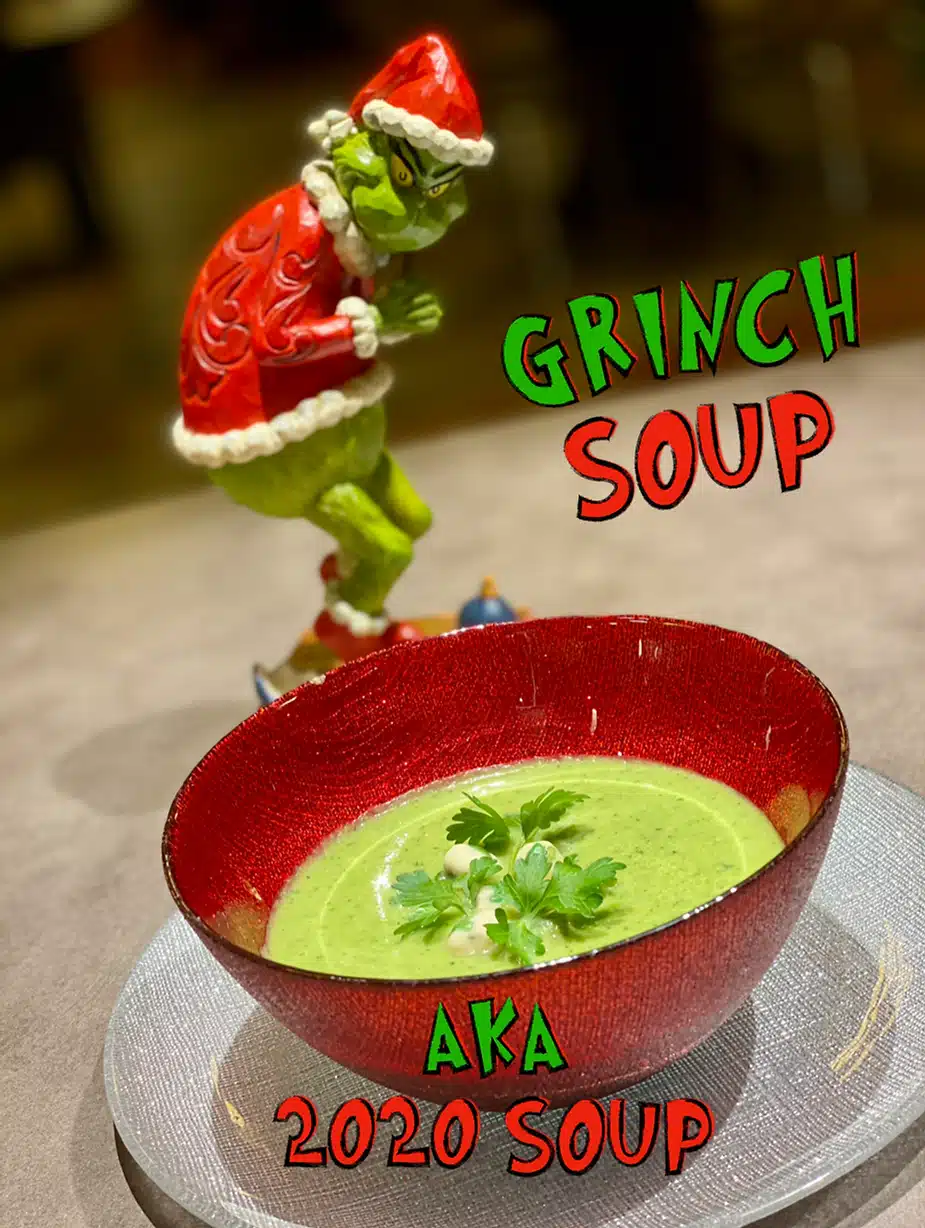 Garnish
3 – 5 Dried Wasabi peas per bowl

1 pinch of Parsley leaves or 2 Chives per bowl.
Preparation
Melt the butter in a pot over medium heat. Add the chopped onion and cook, stirring often, until the onion is softened but not browned, about 6 minutes. Add the Pho broth and bring to a simmer. Add the peas, simmer until peas are just tender about 5 minutes.

Remove the pot from the heat. Add mint and Green Curry paste. Purée soup in a blender or with an immersion blender, thinning with a little more Pho broth or water if the soup is too thick, blend until smooth. Taste & season soup with salt and pepper. You might want to add a little more Thai Green Curry paste depending on how spicy you want your soup. The soup should be nice and spicy and slightly sour or… Grinchy!
Plating
Add a dollop of sour creme or crème fraîche (optional )

Serve soup warm or cold topped with 3 – 5 wasabi peas, chives, or a few arsley leaves.

An optional but fun plating idea would be to place sour cream in a Pipping Bag with a fine tip and draw a Grinch smile in the bowl using the wasabi peas as his eyes.