My 9 year old daughter cooked dinner tonight, all by herself. Tomato soup with pepperoni pizza grilled cheese
One Proud Mama
Fresh Tomato Soup is the perfect appetizer, side, or main when partnered with a crunchy butter cheese toast sandwich. My kids love to dip the freshly toasted bread in the soup and scoop out a bit of the cheese toppings as they devour both the soup and the toast. The soup itself fresh from the instant pot is another example of time saved and taste achieved. If you find you have a busy week of balancing household chores with work and feeding the family use the Instant Pot and get some of the time in the day back for yourself. Tomato soup is a simple and affordable dish that the entire family can enjoy.
Equipment
Pressure Cooker / Instant Pot
Ingredients
4

 

lb

 

cherry tomatoes 

or roma

6

 

garlic cloves

 

minced

1

 

onion

 

chopped

2

 

cups

 

low-sodium chicken broth

 

preferably homemade

¼

 

cup

 

olive oil

¼

 

cup

 

fresh basil

 

chopped

2

 

tsp

 

granulated sugar

 

+/- adjust to your liking

½

 

tsp

 

salt

½

 

tsp

 

black pepper

season with more salt & pepper 

to taste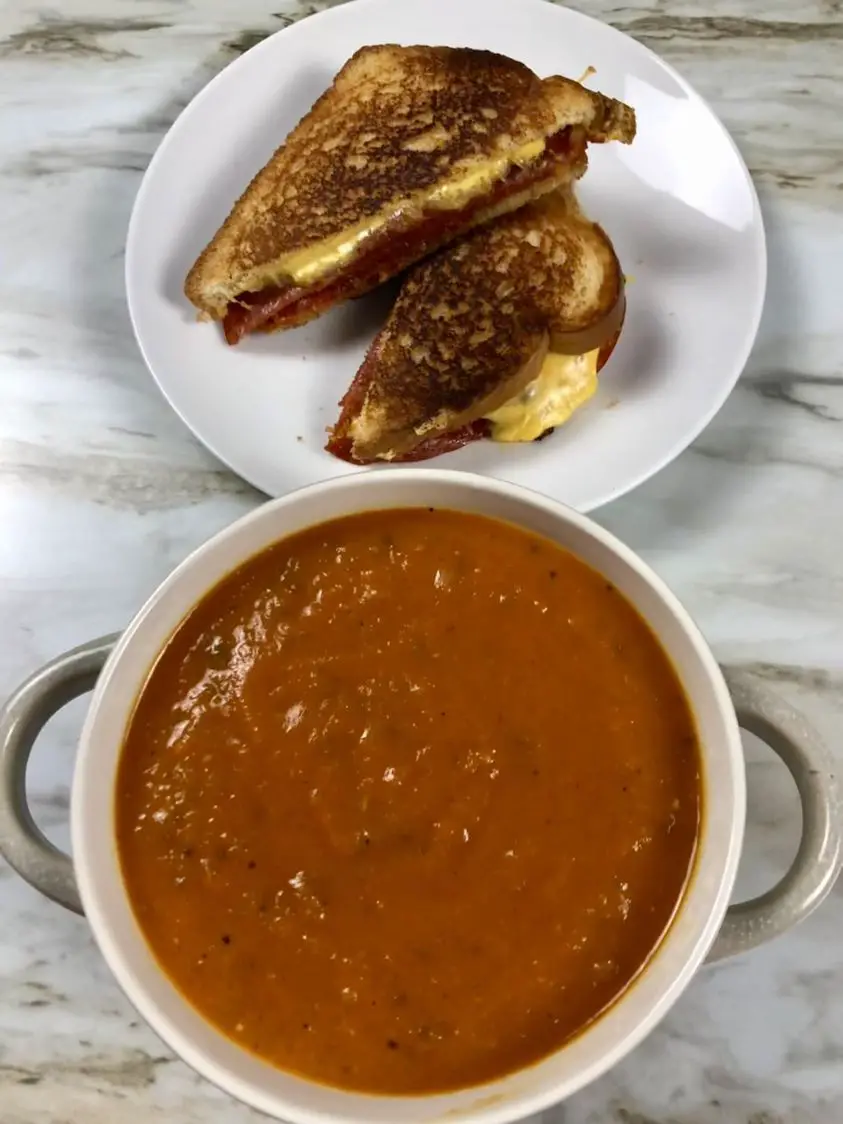 Flour Mixture
2

 

tbsp

 

butter

2

 

tbsp

 

olive oil

2

 

tbsp

 

all-purpose flour
Instructions
Preheat the oven to 425°F (218°C).

In a big bowl: combine fresh cherry tomatoes, minced garlic, chopped onions, olive oil, salt and pepper. Toss/mix until evenly coated.

Transfer and spread the tomatoes on a baking sheet (13″ x 9″).

Place the baking sheet in middle of the oven. Roast in the oven for ~10 minutes. Then, broil on high for ~10 minutes (keep a close eye on them, remove once a bit charred).

Place the roasted tomatoes in the pressure cooker.

Pour chicken broth and sugar in the cooker. Stir and mix.

Place the lid on. Pressure cook on high for 1 minute and natural release for 10 minutes. Follow the manufacture instructions for a quick release. Remove the lid. Press the cancel button.

Using a handle blender (if you don't have one, wait for 10-15 minutes to cool down before transferring the soup to a regular blender), puree until smooth.

Set cooker back to saute-high and bring to a simmer.

Stovetop: Heat a sauce pan to medium-high. Then add 2 tbsp butter and 2 tbsp olive oil. Cook until the butter is fully melted. Turn the heat down to medium, then add 2 tbsp flour. Whisk until the flour is fully dissolved and creamy.





Microwave: Heat butter and oil for 1-2 minutes or until fully melted and hot. Add flour then whisk until the flour is fully dissolved and creamy.

Pour the flour mixture into the cooker and whisk.

Add fresh chopped basils and stir.

Season with salt and pepper to taste.

Simmer for 7-10 minutes or until desired thickness/consistency. Press the canel button.

Strain the tomato soup, using a fine wire mesh. With a whisk or wooden spoon gently work/press the tomatoes through the mesh (discard the seeds). Return the soup to the cooker.