Warm, savory, easy, and flavorful made with beef stock, wine, and loads of onions. And, do not forget, topped with loads of cheese over French baguette slices. Heavenly!
Recipe
METHOD
STEP 1

Preheat the oven to 400º. Spread the rounds of baguette on a cookie sheet and bake until golden brown. Set aside.

STEP 2

Heat the butter with the oil in a large saucepan until melted. Add the onions and cook gently over medium heat and occasionally stir. When the onions are completely soft and slightly light golden.
STEP 3

Add the sugar, pinch of salt and increase the heat to high. Cook for about 2 minutes until the onions caramelize slightly.

STEP 4

Stir in flour and cook for about 1 more minute until light brown. Pour in the beef stock, the oxtails, red wine, fresh thyme, add pepper to taste, and bring to a boil. Lower the heat, partially cover and simmer for about 50 minutes.

STEP 5

Remove the oxtails and the thyme. Add the Cognac to the soup. Stir well. Taste and adjust the seasoning.

STEP 6

Turn on the broiler. Leave the door open while reaching the temperature.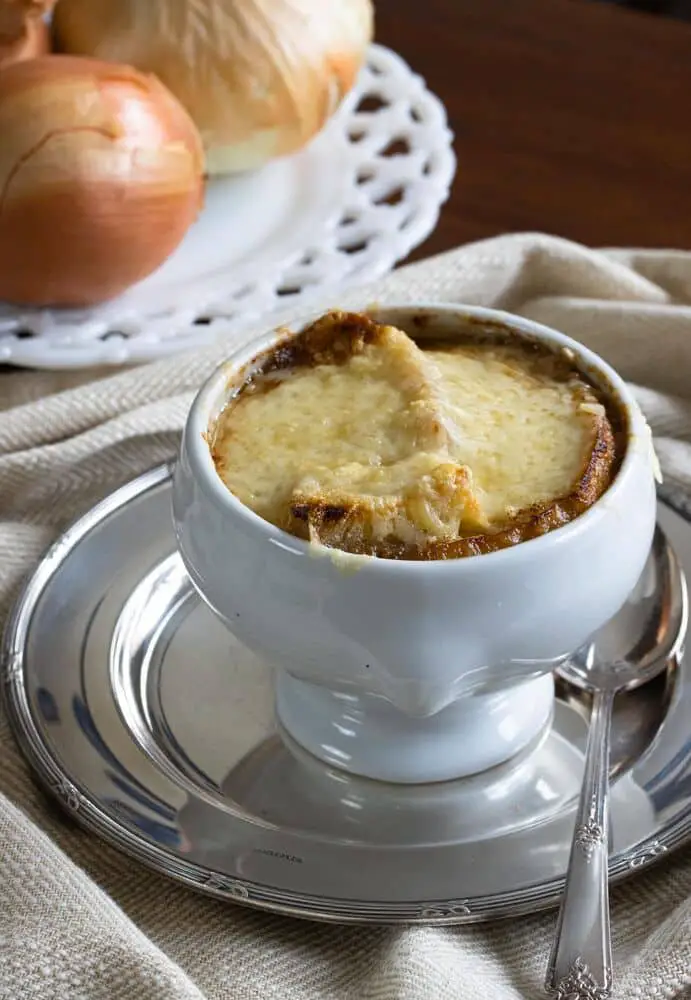 STEP 7

Ladle the soup in 4 French onion soup terrines. Cover with the baguette and pile on the Gruyere cheese. Place the terrines on a cookie sheet.

STEP 8

Put the soup terrine under the broiler until the cheese melts.

STEP 9

Serve immediately.