Here's a simple and delicious recipe for keto enchilada casserole:
Ingredients:
1 lb ground beef
1 cup chopped onion
1 cup chopped bell pepper
3 cloves garlic, minced
1 can diced tomatoes
1 cup tomato sauce
2 tbsp chili powder
1 tsp cumin
Salt and pepper to taste
1 cup shredded cheddar cheese
6-8 low-carb tortillas (or lettuce leaves for a gluten-free option)
Avocado, sour cream, and cilantro for serving (optional)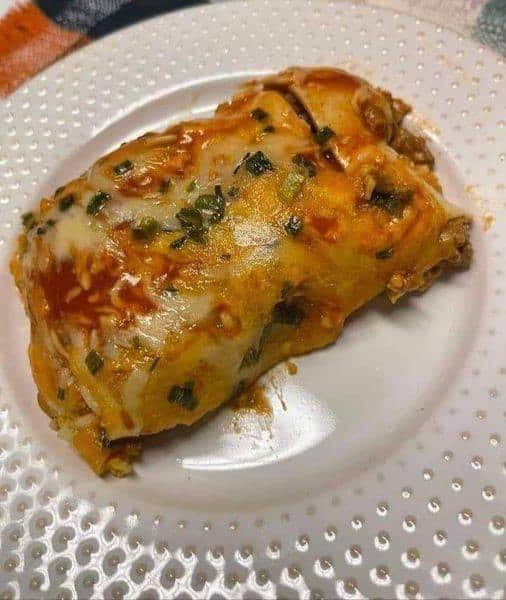 Instructions:
Preheat the oven to 375°F (190°C).
In a large skillet, cook the ground beef over medium heat until browned. Drain any excess grease.
Add the onion, bell pepper, and garlic to the skillet and cook until the vegetables are soft, about 5 minutes.
Stir in the diced tomatoes, tomato sauce, chili powder, cumin, salt, and pepper. Cook until heated through, about 5 minutes.
Grease a 9×13 inch (23×33 cm) baking dish.
Layer half of the tortillas in the bottom of the dish.
Spoon half of the beef mixture over the tortillas.
Sprinkle half of the shredded cheese over the beef mixture.
Repeat the layers, ending with the cheese on top.
Bake for 20-25 minutes, or until the cheese is melted and bubbly.
Serve hot with avocado, sour cream, and cilantro if desired.
Enjoy your delicious keto enchilada casserole!