Ingredients:
1 pound ground beef
1 onion, diced
2 cloves garlic, minced
1 tablespoon tomato paste
1 teaspoon dried thyme
1/4 cup all-purpose flour
4 cups beef broth
2 cups frozen mixed vegetables
1 cup milk
2 cups mashed potatoes
Salt and pepper to taste
Chopped fresh parsley, for garnish (optional)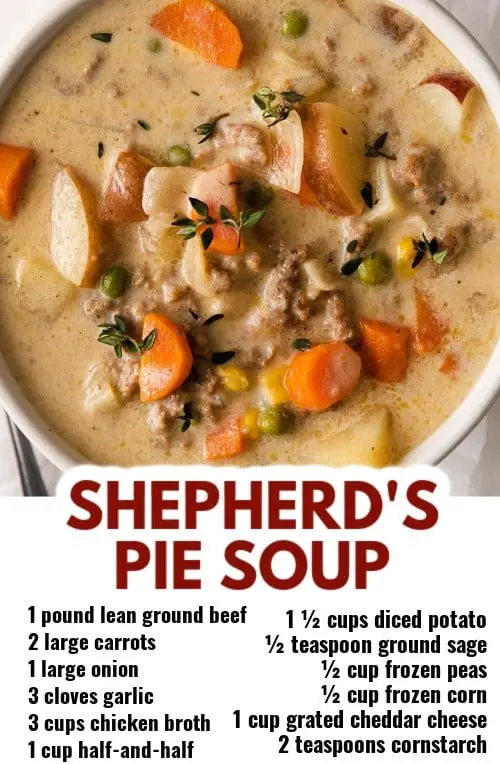 Instructions:
In a large pot or Dutch oven, cook the ground beef over medium heat until it is no longer pink. Remove the beef from the pot and set aside.
In the same pot, add the onion and garlic and cook until the onion is translucent.
Stir in the tomato paste and thyme and cook for 1 minute.
Stir in the flour until it is well combined and cook for 1 minute.
Add the beef broth, mixed vegetables, and milk to the pot. Bring to a boil, then reduce the heat to low and simmer for 15 minutes.
Stir in the cooked beef and mashed potatoes and cook until the soup is heated through.
Season with salt and pepper to taste.
Garnish with fresh parsley, if desired, and serve hot.