Ingredients:
6 bell peppers (any color)
8 ounces cream cheese, softened
1/2 cup shredded cheddar cheese
1/4 cup chopped green onions
1 teaspoon garlic powder
1 teaspoon onion powder
1/2 teaspoon smoked paprika
1/2 teaspoon salt
1/4 teaspoon black pepper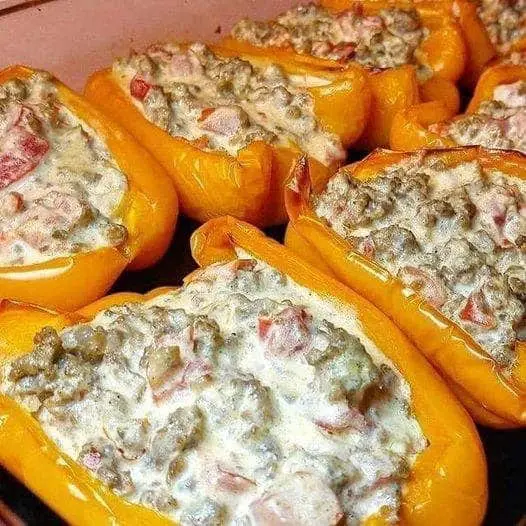 Instructions:
Preheat the oven to 375°F (190°C).
Cut off the tops of the bell peppers and remove the seeds and membranes. Rinse the peppers under cold water and pat them dry.
In a large mixing bowl, beat the cream cheese until smooth.
Add the shredded cheddar cheese, green onions, garlic powder, onion powder, smoked paprika, salt, and black pepper to the cream cheese. Mix well.
Spoon the cream cheese mixture into each bell pepper until they are filled to the top.
Place the stuffed peppers in a baking dish and bake for 30-35 minutes, or until the peppers are tender and the cheese is melted and lightly browned.
Serve hot and enjoy your delicious Cream Cheese Stuffed Peppers!
Note: You can also add cooked ground beef or sausage to the cream cheese mixture for a heartier dish.