Here's a recipe for crack potato soup that serves 4-6 people:
Ingredients:
2 pounds russet potatoes, peeled and diced
1 small onion, diced
3 cloves garlic, minced
4 cups chicken broth
2 cups water
1/2 cup butter
1/2 cup all-purpose flour
1 cup milk
1 cup heavy cream
1 cup shredded cheddar cheese, plus more for serving
1/2 cup cooked and crumbled bacon, plus more for serving
2 tablespoons chopped fresh chives, plus more for serving
Salt and pepper, to taste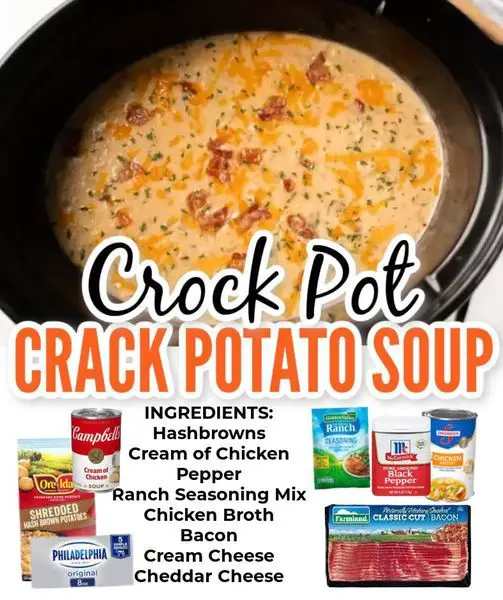 Instructions:
In a large pot or Dutch oven, combine the potatoes, onion, garlic, broth, and water. Bring to a boil over high heat, then reduce the heat to low and simmer until the potatoes are tender, 15-20 minutes.
In a separate saucepan, melt the butter over medium heat. Add the flour and cook, stirring constantly, for 1-2 minutes. Slowly whisk in the milk and cream, and continue cooking until the mixture thickens, 5-7 minutes.
Stir the milk mixture into the soup, along with the cheddar cheese, bacon, and chives. Cook until the cheese is melted and the soup is hot, 5-7 minutes.
Season the soup with salt and pepper to taste. Serve hot, garnished with additional cheese, bacon, and chives, if desired. Enjoy!