Ingredients:
1 lb boneless, skinless chicken breasts or thighs
1 tablespoon olive oil
1 medium onion, diced
3 cloves garlic, minced
2 medium carrots, peeled and sliced
2 medium celery stalks, sliced
8 cups low-sodium chicken broth
1 can diced tomatoes (14.5 oz)
2 bay leaves
1 teaspoon dried thyme
1 teaspoon dried oregano
1/2 teaspoon salt
1/4 teaspoon black pepper
2 cups chopped fresh or frozen green beans
2 cups chopped kale or spinach
1/4 cup chopped fresh parsley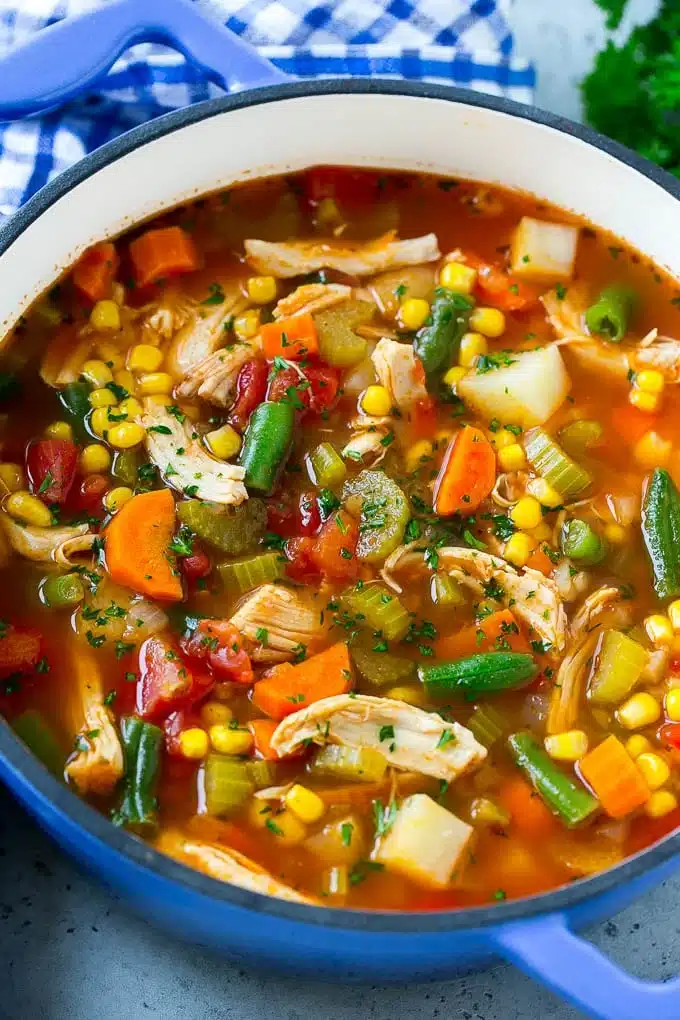 Instructions:
Heat the olive oil in a large pot or Dutch oven over medium heat. Add the onion and garlic and sauté until the onion is soft and translucent, about 5 minutes.
Add the carrots and celery to the pot and sauté for another 5 minutes, until they begin to soften.
Add the chicken broth, diced tomatoes (including the juice), bay leaves, thyme, oregano, salt, and pepper. Bring to a boil, then reduce the heat to low and simmer for 20-30 minutes, until the vegetables are tender.
Remove the chicken from the pot and shred it into bite-sized pieces using two forks. Return the chicken to the pot.
Add the green beans and kale or spinach to the pot and simmer for another 5-10 minutes, until the vegetables are tender and the greens are wilted.
Remove the bay leaves from the pot and discard them. Stir in the chopped parsley and adjust the seasoning as needed.
Serve hot, garnished with additional chopped parsley if desired. Enjoy!