Ingredients:
1 tablespoon olive oil
1 medium onion, diced
2 cloves garlic, minced
2 medium carrots, diced
2 celery stalks, diced
1 teaspoon dried thyme
1/2 teaspoon salt
1/4 teaspoon black pepper
4 cups chicken broth
2 cups diced cooked chicken
1 cup frozen peas
1 cup frozen corn
1 cup milk
1/4 cup all-purpose flour
1 sheet puff pastry, thawed
1 egg, beaten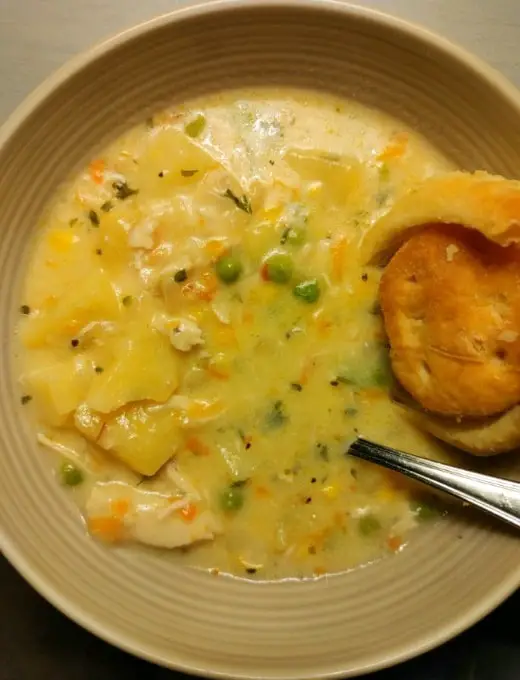 Instructions:
Heat the olive oil in a large pot or Dutch oven over medium heat. Add the onion and garlic and cook until softened, about 5 minutes.
Add the carrots, celery, thyme, salt, and pepper to the pot and cook for an additional 5-7 minutes, until the vegetables are tender.
Pour in the chicken broth and stir to combine. Bring the soup to a simmer and let cook for 10-15 minutes.
Add the cooked chicken, peas, and corn to the soup and let cook for an additional 5-10 minutes.
In a separate bowl, whisk together the milk and flour until smooth. Pour the mixture into the soup and stir until well combined.
Preheat the oven to 400°F.
Roll out the puff pastry on a lightly floured surface and cut into 1-inch strips.
Ladle the soup into individual oven-safe bowls or ramekins. Place the puff pastry strips over the top of the soup in a lattice pattern.
Brush the beaten egg over the top of the puff pastry.
Place the bowls or ramekins on a baking sheet and bake for 20-25 minutes, or until the puff pastry is golden brown and the soup is bubbling.
Let cool for a few minutes before serving. Enjoy!