Chicken Alfredo Stuffed Spaghetti Squash
Ingredients:
Spaghetti Squash:
* 1 medium spaghetti squash, (approximately 4-5 pounds)
* 1 tablespoon olive oil
* Salt & pepper
Alfredo Sauce:
* 2 tablespoons unsalted butter
* 2 teaspoons cornstarch or xanthan gum (mixed with 1 tablespoon water)
* 1/2 tablespoon minced garlic, (2-3 cloves)
* 1 cup low-sodium chicken stock
* 1/4 cup cream cheese, (softened at room temperature)
* 1/2 cup parmesan cheese, (freshly grated)
* 1 cup plain greek yogurt
* 1 teaspoon dried basil
* 1 teaspoon dried oregano
* 1 teaspoon dried parsley
* salt and pepper, (to taste)
Add ins:
* 2 cups baby spinach, (roughly chopped)
* 8 ounces cooked chicken breast, (cubed or shredded)
Toppings:
* 1 cup mozzarella cheese, (freshly grated)
* 2 tablespoons crumbled cooked bacon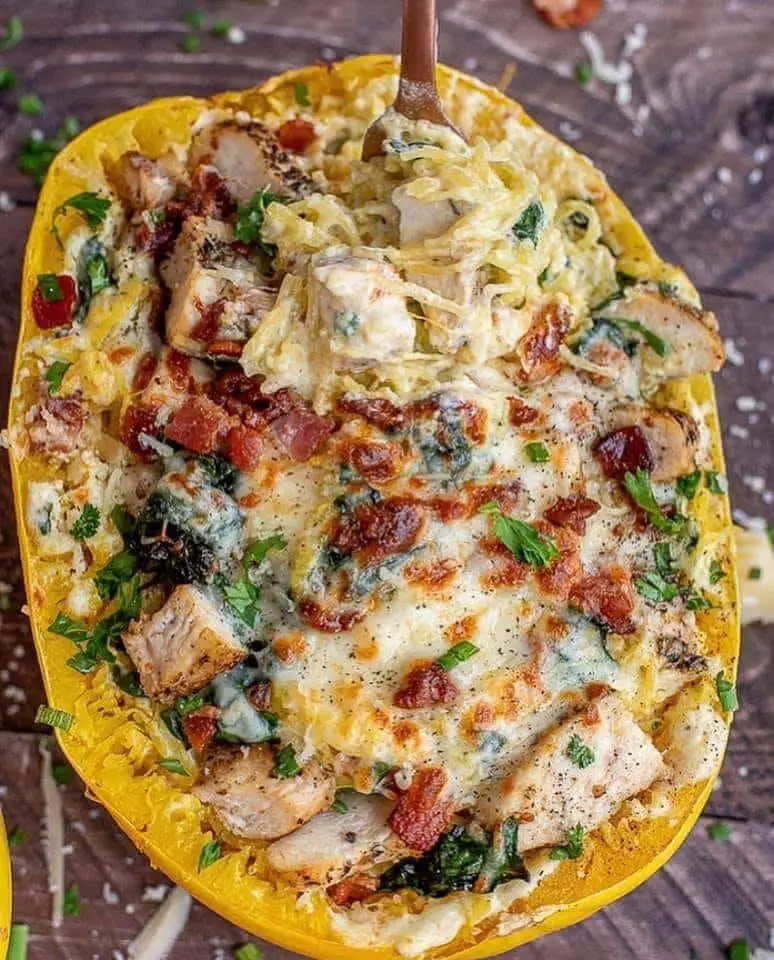 Instructions:
To Cook Spaghetti Squash:
* Preheat oven to 400 degrees F. Cut the squash in half lengthwise and scoop out the seeds using a large fork or spoon. Discard seeds.
* Brush entire inside of each half with olive oil, sprinkle with salt and pepper and place flesh side down onto a baking sheet or dish. Bake for 45-55 minutes or until the squash is fork tender. Time will be dependent on the size of your spaghetti squash. I recommend checking at 40 minutes. The shell should be soft when squeezed lightly.
* Remove from oven and allow to cool until safe to touch – 10-15 minutes. Flip each squash over on the baking sheet/dish. Lower oven temperature to 350 degrees F.
Chicken Alfredo:
* While the squash is cooling, place a large skillet over medium heat. Add butter and allow to melt. Add garlic and cook for 30 seconds, or until fragrant.
* Pour in chicken stock and cornstarch mix. Whisk until smooth. Allow it to come to a boil, reduce heat to low and simmer.
* Add in cream cheese and stir until melted. Add parmesan cheese and stir until sauce is smooth. Add in basil, oregano, and parsley. Stir well.
* Stir in the Greek yogurt and conuinuing stirring until the sauce is smooth and creamy. Season with salt and pepper, to taste.
* Add cooked chicken breast to sauce to warm. Stir in spinach and cook until wilted.
Assembly:
* Using a fork, shred the squash into long spaghetti-like strands, pulling it away from the shell a bit.
* Evenly distribute the chicken and sauce between the two halves. Top each with 1/2 cup of mozzarella cheese, sprinkle with bacon, and bake for 5-10 minutes, or until the cheese has melted and started to brown. If you're a fan of those brown bubbles of burnt cheese, turn the broil on high for 1-2 minutes. Keep an eye on it to prevent it from getting too burnt! Will brown quickly!
* Remove from oven, garnish with extra parsley and enjoy!
I highly recommend using smaller sized spaghetti squash to make individual servings, and makes for beautiful presentation on the plate. I used 4 small halves and had a little filling left over, the leftovers will be perfect over some cauliflower rice. Yum!