Ingredients:
For the cake:
3 eggs
1 cup granulated sugar
2/3 cup canned pumpkin puree
1 tsp vanilla extract
3/4 cup all-purpose flour
1 tsp baking soda
1 tsp ground cinnamon
1/2 tsp ground ginger
1/4 tsp ground nutmeg
1/4 tsp salt
1 1/2 cups shredded carrots
1/2 cup chopped walnuts (optional)
For the filling:
8 oz cream cheese, softened
1/4 cup unsalted butter, softened
1 tsp vanilla extract
1 1/2 cups powdered sugar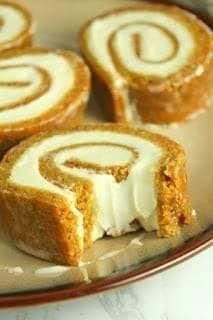 Instructions:
Preheat oven to 375°F. Line a 10×15-inch jelly roll pan with parchment paper and lightly grease the paper.
In a large mixing bowl, beat eggs on high speed for 3-4 minutes or until thick and lemon-colored.
Gradually add sugar and beat until mixture becomes light and fluffy.
Beat in pumpkin and vanilla.
In a separate mixing bowl, whisk together flour, baking soda, cinnamon, ginger, nutmeg, and salt.
Fold dry ingredients into pumpkin mixture until just combined.
Fold in shredded carrots and walnuts (if using).
Spread batter evenly into prepared pan and bake for 12-15 minutes or until cake springs back when lightly touched.
While cake is baking, prepare the filling. In a large mixing bowl, beat cream cheese and butter together until smooth.
Beat in vanilla extract.
Gradually beat in powdered sugar until filling is smooth and creamy.
When cake is done, immediately loosen the edges with a knife and invert onto a clean towel dusted with powdered sugar.
Carefully remove parchment paper from cake and roll up cake with towel, starting at the short end.
Let cake cool completely on a wire rack.
Carefully unroll cake and spread cream cheese filling evenly over cake.
Roll cake up tightly, using the towel to help guide the cake.
Wrap in plastic wrap and refrigerate for at least 30 minutes before serving.
Slice and serve chilled. Enjoy!