Serves 2Prep time: 15 min
Cook time: 35 min
1 small pumpkin (about 2 pounds or 1 kg)
1 Camembert (mini 150 grams)
7 Cherry Tomatoes
1 Shallot, cut into quarters
3 Garlic Cloves, halved
2 sprigs Fresh thyme
1 teaspoon Dried tomatoes and basil seasoning
1 teaspoon Provence seasoning
Himalayan salt to taste
Olive Oil
Pumpkin seeds to serve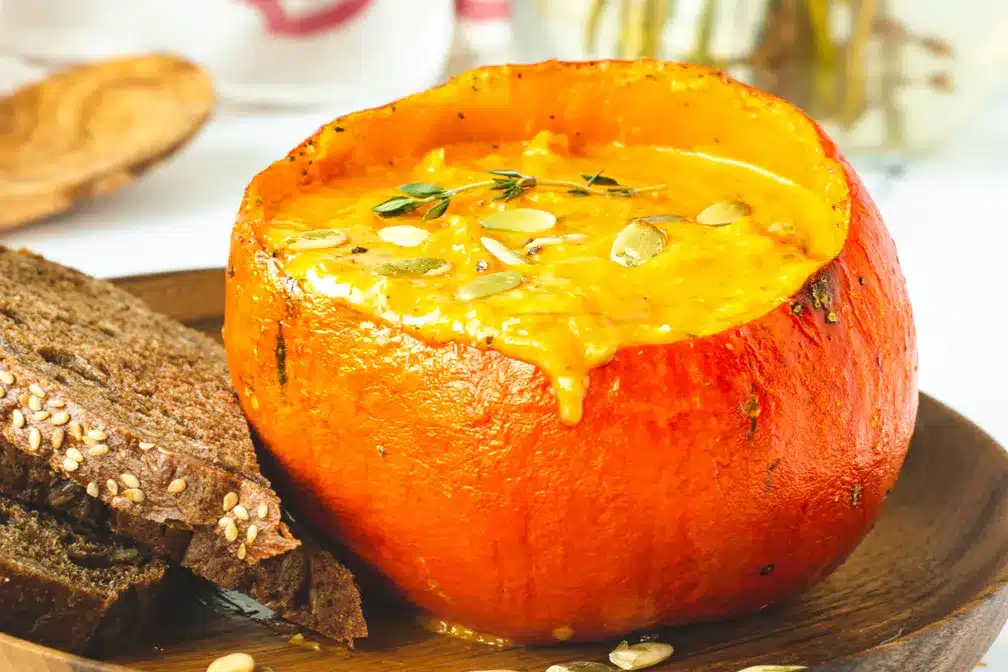 Cut off the top of the pumpkin, remove seeds.
Put the pumpkin in a heat-resistant dish, put Camembert, tomatoes, onions, and garlic. Sprinkle with spices, pour olive oil, and put a few sprigs of thyme.
Place in the oven at 180C for 30 minutes (time depends on the size of your pumpkin). The pumpkin should be soft on the inside.
When ready, let cool, then spoon out the pumpkin pulp from the shell and transfer it to a blender. Then add Camembert and the rest of the baked vegetables, thyme sprigs removed. Blend until smooth.
Serve with pumpkin seeds, a few fresh thyme leaves, and bread. You can serve the soup in the pumpkin shell or use deep bowls.