Fry one large onion in olive oil. Add about 5 stalks celery cut in pieces. I add one can of cici beans (better if you soak the dry ones overnight but I am lazy). I add about a quart of water or chicken stock. I like to use better than bouillon chicken flavored. Salt and pepper to taste and add fresh Italian parsley towards the end. It usually only takes about 20 minutes or so to cook. I cook the pasta separately and add about 1 cup or so cooked pasta. You can add more water if you like it more soupy. I have also added carrots and you can add tomato as well. Experiment.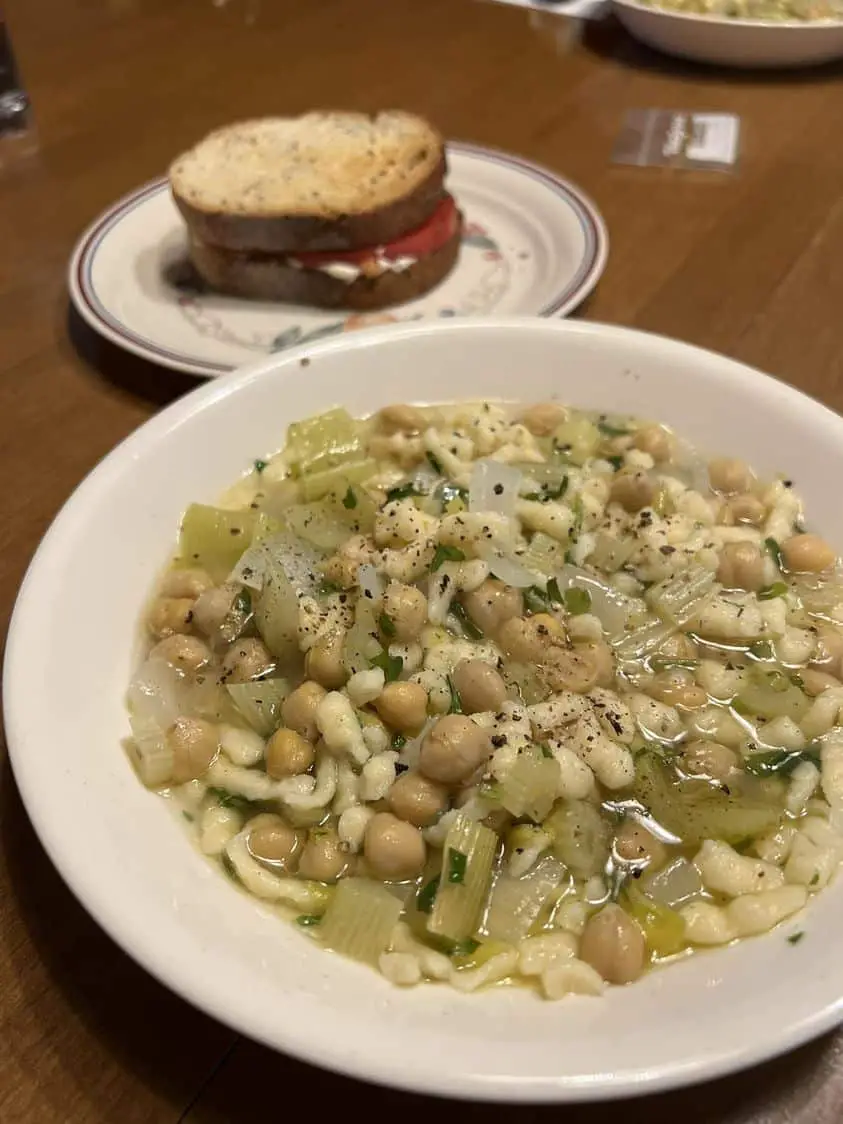 Ingredients:
1 pound ground beef
1 small onion, diced
1 small green bell pepper, diced
2 cloves garlic, minced
1 can (14.5 ounces) diced tomatoes
1 can (14.5 ounces) beef broth
1 can (14.5 ounces) kidney beans, drained and rinsed
1 cup uncooked small pasta shells
1 teaspoon dried oregano
1 teaspoon dried basil
1/2 teaspoon salt
1/4 teaspoon black pepper
1/4 teaspoon red pepper flakes (optional)
Instructions:
In a large pot, cook the ground beef over medium heat until it is browned and crumbled. Drain off any excess fat.
Add the onion, bell pepper, and garlic to the pot and cook until the vegetables are tender.
Stir in the diced tomatoes, beef broth, kidney beans, pasta shells, oregano, basil, salt, black pepper, and red pepper flakes (if using).
Bring the soup to a boil, then reduce the heat to low and let it simmer for about 15-20 minutes, or until the pasta is tender.
Serve hot.