Ingredients:
1 head of cabbage, chopped
4 large carrots, peeled and chopped
4 celery stalks, chopped
1 large onion, chopped
4 cloves garlic, minced
6 cups chicken or vegetable broth
1 can (14.5 oz) diced tomatoes, undrained
1 tbsp olive oil
1 tsp dried thyme
1 bay leaf
Salt and pepper, to taste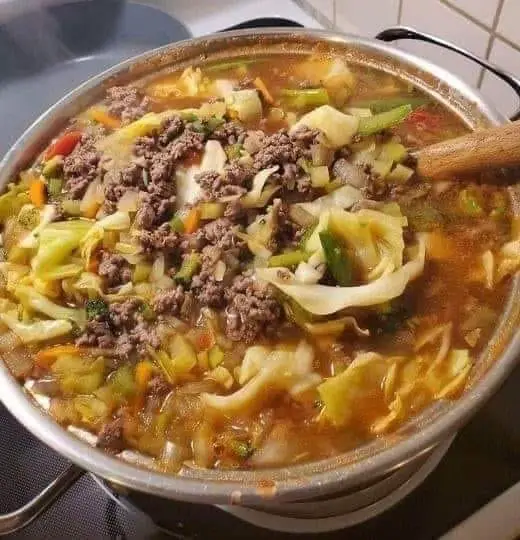 Instructions:
In a large soup pot or Dutch oven, heat the olive oil over medium heat.
Add the chopped onion and garlic and cook for 2-3 minutes, or until the onion is translucent.
Add the chopped carrots and celery to the pot and cook for an additional 5 minutes, stirring occasionally.
Add the chopped cabbage, thyme, bay leaf, and a pinch of salt and pepper to the pot.
Pour in the chicken or vegetable broth and the diced tomatoes, including the liquid from the can.
Bring the soup to a boil, then reduce the heat to low and simmer for 25-30 minutes, or until the vegetables are tender.
Remove the bay leaf from the soup and discard.
Taste the soup and adjust the seasoning as needed with additional salt and pepper.
Serve the soup hot, garnished with chopped fresh herbs or a sprinkle of grated Parmesan cheese if desired.
Enjoy your delicious and warming cabbage soup!